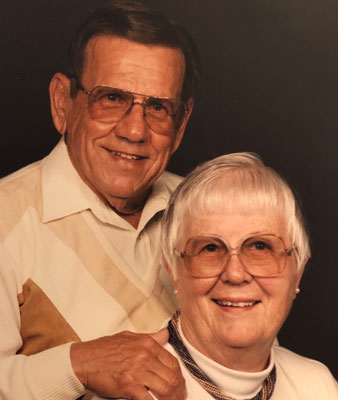 RUTH F. EVANS
"Together Again"
CANFIELD - Funeral services will be held Wednesday at 11 a.m. at the Woodworth Church of the Brethren for Ruth F. Evans, 93, who passed away Sunday evening at Carpice Healthcare.
Ruth was born Aug. 22, 1924, in Mogadore, a daughter of the late Charles Sherwood and Clara (Kurtz) Feller.
Ruth was a 1942 graduate of Mogadore High School. She was a owner and operator of Evans Carpet and then T.W. Pet Centers. She was a founding member of the Youngstown Area Tropical Fish Society. Ruth loved bowling, fishing and boating, especially speed boating. She also enjoyed going on boating trips to Canada.
Her husband, George "Dick" R. Evans, whom she married Sept. 27, 1942, passed away Feb. 12, 2005.
Ruth leaves her two daughters, Noel (Roger) Jenkins of Boardman and Margie Evans of Warren; a son, Dick Evans of Canfield; former daughter-in-law, Dolly DiMargio of North Royalton; four grandchildren, Cathy (Scott) Howard, Cari Lynn (Tim) Johnston, Richard (Kelli) Evans; and Bradley (Loretta Lomanto) Evans; and six great-grandchildren, Felicia (William) Moss, Ashley Benzenhoefer, Cody Howard, Tim Johnston, Tyler Johnston, and Taylor Johnston.
Ruth was also preceded in death by a son, Eric E. Evans and a brother, Warren Feller.
Family and friends may call today from 4 to 7 p.m. at the Higgins-Reardon Funeral Homes, Boardman-Canfield Chapel and Wednesday from 10 to 10:45 a.m. at the church.
Material tributes may take the form of donations to the Woodworth Church of the Brethren Memorial Fund, 30 E. Western Reserve Road, Poland, OH 44514.
Guestbook Entries
Mom
"May God bless and keep you close. I love and miss you, dad, and Eric. "
» Margie Evans on March 13, 2018
Deepest Sympathy
"You had a smile for everyone! You loved life, and will be missed by many."
» Ernie & Paulette Yocum on March 13, 2018
Ruth
"I will always cherish the moments we spend talking about family, looking at old pictures and sharing gummy bears. Tu recuerdo siempre estara conmigo, con amor LL"
» Loretta on March 13, 2018
condolences
"So sorry for your loss. Sending prayers to you and the family"
» Bobbie Chalky on March 13, 2018
Deepest Sympathy
"Was a pleasure to know you Ruth and you surely will be missed. Prayers for your family. "
» jan yoakam on March 13, 2018
Sympathy
"All though we were not close, from the many loving family stories I have heard, you were a wonderful lady. You will forever be in the hearts of those you have touched. Your gentle ways will carry on in the ladies of your family and in their hearts as they continue on in life. Hugs to all!"
» Bev on March 14, 2018
Noel (Roger)
"Noel, Remember your folks fondly and the church youth functions that we had at your parent's home. Condolences from myself and my wife Connie. May she rest in peace. "
» William "Bud" Young on March 15, 2018
Sign the Guestbook
---