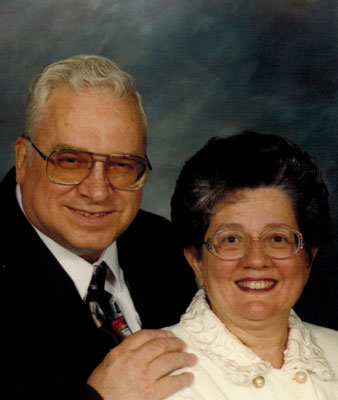 KEITH F. BRUNNER SR
"Together Again"
POLAND - There will be a Mass of Christian Burial held on Thursday, March 15, 2018, at 10 a.m. at St. Dominic Church, 77 E. Lucius Ave. in Youngstown, preceded by a 9:20 a.m. prayer service held at the Rossi & Santucci Funeral Home, for Keith F. Brunner Sr., 83, who passed away Sunday, March 11, 2018, with his loving family by his side.
Keith was born Aug. 5, 1934, in Houghton, Mich., the son of Frederick and Genevieve (Schannenk) Brunner.
Keith was a graduate of Houghton High School. After high school, he was employed at Lowe's Theater working his way up to manager. He then joined the Houghton Police Force prior to enlisting in the U.S. Air Force. He was stationed in Alaska (Elmdorf AFB) when it became the 49th state. Keith was also stationed in Oklahoma (Clinton-Sherman AFB), where he met the love of his life, the late Joycelyn "Joy" (DiLoreto), whom he married on Nov. 26, 1960.
Keith started his married life as an insurance salesman in Milwaukee, Wis. When the family relocated to Youngstown, he was employed by the U.S. Postal Service, where he worked for 32 years. He also earned an associate's degree in Business Administration from the Youngstown College of Business. After retirement, Keith could be found each morning at Poland McDonald's where he enjoyed catching up on area happenings with his friends over endless cups of coffee.
One of Keith's passions was deer hunting. Each November, he travelled to Houghton, to join his family at their camp for deer hunting season. He also hunted with friends at various places in Ohio and Pennsylvania. His other passion was photography which is evident in the slides, pictures and videos he took during his life.
He was a 3rd degree knight with the Knight's of Columbus and volunteered at the Mahoning County Chapter of the American Red Cross as well as Hospice of the Valley. He was a member of the Holy Family Church in Poland, and St. Dominic Church in Youngstown.
Keith leaves to cherish his precious memory, his children, daughter Karen Brunner of Columbus; sons Keith Brunner Jr. and Ken (Debbie) Brunner, all of Poland; sister-in-law Peggy Brunner of Parkersburg, W.Va.; brother-in-law Larry DiLoreto of Cleveland; sisters-in-law Jean (Ron) DiVincenzo of Boardman and Janice DiLoreto of Scottsdale, Ariz.; as well as many nieces and nephews.
Besides his wife and parents, Keith was preceded in death by his brother, Patrick Brunner; sister-in-law Mary Brunner; parents-in-law Larry and Marie (Vecchione) DiLoreto; nephew Patrick Brunner; and niece Cathleen DiVincenzo.
Family and friends may pay their respects Wednesday, March 14, 2018, from 4 until 7 p.m. at the Rossi & Santucci Funeral Home, 4221 Market St. in Boardman (new location). Burial will take place at Calvary Cemetery in Youngstown.
In lieu of flowers, the family requests that tributes be made in Keith's name to Hospice of the Valley, 5190 Market St., Boardman, OH 44512.
Family and friends may visit www.rossisantuccifh.com to view this obituary, sign the guestbook and send condolences to the Brunner family.
Guestbook Entries
My sympathy and Prayers
"Please accept my sympathy and prayers to the whole family. I will always remember Keith with Joy. May Keith's soul and all the souls of the faithful departed rest in peace. Sincerely, Sr. Marlene"
» Sr. Marlene LoGrasso, OSU on March 14, 2018
Sign the Guestbook
---