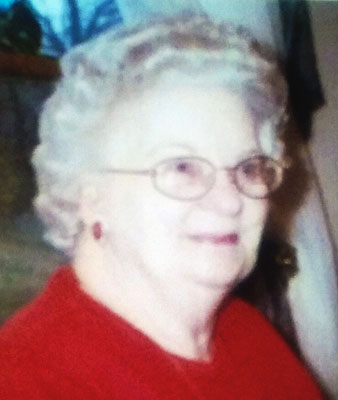 GRACE MARIE NELSON
AUSTINTOWN – Private services will be held for Grace Marie Nelson, 99, who died peacefully Friday morning at Austinwoods Nursing Home, surrounded by her family.
Grace was born March 29, 1918, the daughter of Otto and Lillian (Thompson) Bogner.
She was a 1936 graduate of Austintown Fitch High School, where she was on the cheerleading squad. Grace was a member of the Austintown Community Church and the Red Hat Society. She enjoyed playing cards, bowling, golfing, and Bingo.
Grace's husband, Carl G. Nelson, whom she married in 1937, died in 2004.
She is survived by her daughter, Sally Cullinan of Austintown; granddaughter Colleen (Wayne) Craig of Austintown; two great-grandchildren, Christine (Jeremy) Athey and Michael Craig; and a great-great-grandson, Easton Athey.
Grace was also preceded in death by her parents and aunt Sara Sawtell.
Per Grace's wishes, there will be no calling hours or services.
The family would like to thank Grace's home caregivers, Debbie and Emily Boyles; her neighbors, Mr. and Mrs. Pete Fraser; and the staff at Austinwoods Nursing Home for their kindness and compassion.
Professional arrangements are being handled by the Higgins-Reardon Funeral Homes, Austintown Chapel.
Guestbook Entries
Loving mother
"So sorry about Graces passing. She was a wonderful and loving women. Grace also has a son Ronald who loved her very much and did many things for her during her lifetime. Sally chose not to mention him. "
» elizabeth nelson on March 13, 2018
Our Love
"I've had the pleasure of knowing Grace. This is what I know: She loved life with a passion, she was always up for a little fun, she had a wonderful laugh and loved animals. Her son Ron, as well as his wife, children & grandchildren were able to share in Grace's life making all of their lives better for it. They have passed along her passion so that a piece of her remains. "
» Joan Ford on March 13, 2018
Our Love
"So sorry to see the passing of Mrs. Nelson. I first met Mrs. Nelson when I was 18. I'm now 62. Over those years I was fortunate to be a guest at her wonderful home numerous times. Mrs. Nelson loved to play cards and I enjoyed sitting with Mrs. Nelson, Mr. Nelson, and their only son Ron, playing hearts or spades. Although her contagious laugh stands out the most, her competitive nature is something I'll always remember. Her kindness and acceptance will be with me forever. The omission of her son's name from the obituary is something I know Mrs. Nelson would correct. Rest In Peace"
» Wally Ford on March 13, 2018
Condolences
"So sorry on the loss of your dear mother, grandmother, great-grandmother and great great grandmother. I will miss seeing her."
» Michelle Quimby on March 13, 2018
Condolences
"Dear Sally and Family: I am so sorry about your mom, Gracie. She was a sweet lady. I know how hard it was for you (and) me to visit with your mom day after day because you love her so much, but the mom you love so much isn't really there. You were a wonderful daughter and I will never forget you, Now, it is still my turn...Karen p.s. Some think they understand and they judge, when they should not!"
» Karen Tyndall and Violet Esker on March 13, 2018
Sign the Guestbook
---