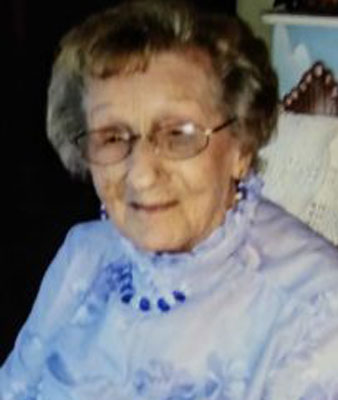 ANNA ROBINSON
COLUMBIANA - Mrs. Anna Robinson, 99, formerly of Ellwood City, Pa., passed away on Thursday, March 8, 2018, at the St. Mary's Alzheimer's Center in Columbiana.
Mrs. Robinson was born on Aug. 22, 1918, in Ellwood City, to the late John and Bernice (Dubiel) Lawrence.
She had lived in California for 15 years and then moved to Colorado for 22 years. She had worked in various department stores and hospital cafeterias. In 2009 Anna moved to Boardman. Anna enjoyed gardening, needlepoint, crocheting, and crafting.
Mrs. Robinson is survived by her daughter, Mary Robinson of East Palestine; her son, Richard (Rebecca) Robinson Sr. of Warren; her grandchildren, Mindy A. Robinson, Richard E. (Heather) Robinson Jr., Ryan Asbury, and Mark (Kim) Noonkester Sr.; her great-grandchildren, Adrianna Robinson, Nathanial Robinson, and Mark Noonkester Jr.; her great-great-grandchild, Catarina Griffith; and her niece, Dorothy Powell.
She was preceded in death by her parents; her husband, Edward Robinson, whom she married in 1945 and who passed away in 1985; her daughter, Patricia Ann Robinson in 2010; her sisters, Bernice Mikosz, Helen Ceasar, and Josephine Conner Jameson; and her brothers, Joseph, John, Steve, and Frank Lawrence.
Visitation will be held on Wednesday from 6 to 8 p.m. and on Thursday from 9 a.m. until the time of the blessing service at 10 a.m. at the Samuel Teolis Funeral Home Inc. and Cremation Services, with Father Mark Thomas officiating. Interment will follow at the Locust Grove Cemetery.
Memorial contributions in Mrs. Robinson's name may be made to the St. Mary's Alzheimer's Center, 1899 W. Garfield Rd., Columbiana, OH 44408.
Guestbook Entries
« Be the first to sign ANNA ROBINSON guestbook.
---