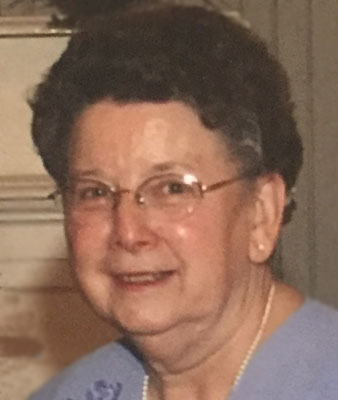 JANET D. GEER
NEW CASTLE - Janet D. Geer, 79, formerly of McGuffey Boulevard, passed away the evening of March 6, 2018, at Clen-Moore Place.
Born Sept. 16, 1938, in Indiana, Pa., she was the daughter of Leroy N. and Elsie Fennell Isenberg.
Janet was preceded in death on May 23, 2005, by her husband of 45 years, Elwood F. Geer, whom she married on Jan. 1, 1960.
She was employed with Indiana Sportswear in Indiana, Pa., and later with St. Francis Hospital in the purchasing department.
She was a member of Wimodausis and Eastern Star, a board member of Rainbow Girls, and active with the Cancer Support Group. Janet was of Pentecostal faith.
She is survived by one daughter, Kimberly Singer of New Castle; one son and his wife, Sean and Joan Geer of Poland; two brothers, Thomas (Diane) Isenberg of Warren, and Victor (Anne) Isenberg of Cortland; two granddaughters, Jennifer Singer and Amber Singer; and one step grandson, Dominic Franceschelli.
In addition to her parents and her husband, she was preceded in death by a son-in-law, Brian Singer; her husband's parents, Everett and Frances Geer; and two brothers, Roger Isenberg and Randy Isenberg.
The family would like to thank 365 Hospice and the staff at Clen-Moore Place for their loving and compassionate care.
Visitation will be held on Saturday from 10 a.m. to 1 p.m. at the R. Cunningham Funeral Home and Crematory, Inc., 2429 Wilmington Road in New Castle.
A funeral service will be held immediately following visitation at 1 p.m. at the funeral home with the Rev. Matthew Bupp officiating.
Entombment will be in Castle View Gardens.
Memorial contributions may be made to the Cancer Support Group c/o Julie Tomlinson, PO Box 8631, New Castle, PA 16107.
Visit www.cunninghamfh.com to offer online condolences.
Guestbook Entries
« Be the first to sign JANET D. GEER guestbook.
---