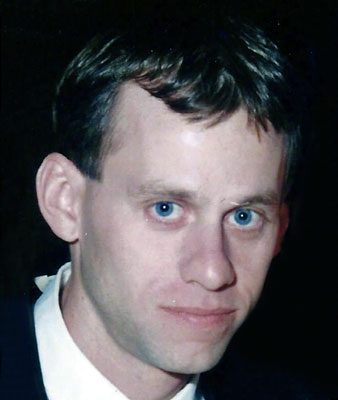 ROBERT M. DURKIN
YOUNGSTOWN - Robert. M. Durkin, 48, lost his battle with cancer on Saturday morning, March 3, 2018.
Bob was born on May 2, 1969, in Youngstown. He was the loving son of Thomas M. and Pamela J. (Augustine) Durkin.
Bob was a graduate of St. Dominic Church Elementary School in June of 1983 and graduated from Cardinal Mooney High School with the class of 1987. He was a graduate of John Carroll University in University Heights.
Along with his parents, he leaves his beloved wife, Lisa (Ecker) Durkin; a daughter, Jill; and a son, Michael of Bay Village. He also leaves behind his two brothers, Thomas J. (Jennifer) of Arlington Heights, Illinois and Joseph B. of Bethel Park, Pa.; and his sister, Kathleen M. Durkin of Boardman. He was a beloved uncle, cousin and friend to many.
Bob was a staunch Notre Dame University sports fan as well as a Cleveland Browns and Cleveland Indians fan. He very much enjoyed watching all sports on television.
Bob was also a long time employer of the Cleveland Plain Dealer in their commercial delivery section. He retired due to health problems in December of 2017.
A funeral Mass of Christian Burial will be held Thursday at 10:30 a.m. at St. Raphael Catholic Church, 525 Dover Center Road in Westlake. Please meet at the church.
Friends may call today from 4 to 7 p.m. at the McGorray-Hanna Funeral Home of Westlake, 25620 Center Ridge Road (west of Columbia).
The family suggests memorial contributions to Ames Family Hospice House, 30800 Hospice Way, Westlake, OH 44145.
Guestbook Entries
Condolences
"To the Durkin Family my deepest sympathies on the passing of Robert. I did not know Robert but was a classmate of his mother Pam at Cardinal Mooney. God bless you all during this most difficult time. "
» Daniel Handel on March 8, 2018
Sympathy
"Dear Pam and Tom, So very sorry about the death of your son Bob. You have so many wonderful memories with him, hang on to those memories they will help you get through this difficult time. My thoughts and prayers are with you all. "
» Patty O'Shaughnessy on March 8, 2018
Deepest Sympathy
"Dad and I wanted to offer the family our condolences to the family. We are so sorry for your loss. My God give you strength at this time."
» Denise Bryarly on March 10, 2018
Sign the Guestbook
---