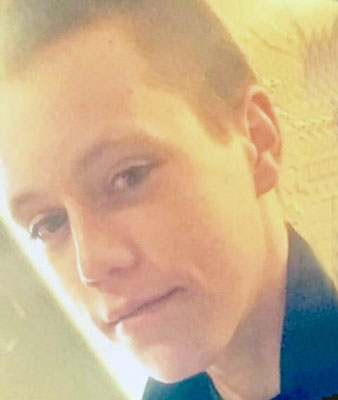 BRANDON BLAIR WAREHAM
AUSTINTOWN – Funeral services will be held Friday at 11 a.m. at the Higgins-Reardon Funeral Homes, Austintown Chapel, for Brandon Blair Wareham, 18, who died Saturday afternoon.
Brandon was born Aug. 3, 1999, in Youngstown, the son of Dennis Wareham and Jamie Frederick.
Brandon was a 2017 graduate of Austintown Fitch High School, where he attended the MCCTC and studied engineering. He was always very hands on and was great at building things.
Brandon enjoyed being outdoors and had a love for animals.
Brandon is survived by his father, Dennis B. Wareham (Melanie Petak) of Austintown; sister Jade Frederick of Michigan; his aunt, Julie (Brett) Householder of Niles; uncle Gary (Courtney) Wareham of Michigan; grandfather Dennis L. Wareham of Niles; stepmother Michelle Prosser of Austintown; stepbrother Derrek Mundell of Washington, D.C.; and several cousins.
He was preceded in death by his mother and grandmother Betty Wareham.
Family and friends may call Thursday from 5 to 8 p.m. at the funeral home.
Visit www.higgins-reardon.com to send condolences to the family.
Guestbook Entries
Condolences
"My hearfelt sympathies to Dennis and his family. "
» Patricia A Hollis on March 11, 2018
Prayers
"I wish the family the very best and I am praying for you and hope you get through this difficult time "
» John willison on March 6, 2018
Our deepest sympathies
"Our prayers go out to all who were close to Brandon. Such a senseless tragedy to lose such a great, bright and loved child. Heaven has surely gained another angel. Watch over the rest of us here, especially your big sister Jade. Our deepest sympathies. Love, Uncle Mike and Aunt Jessica"
» Jessica Jamula Frederick on March 9, 2018
Sign the Guestbook
---