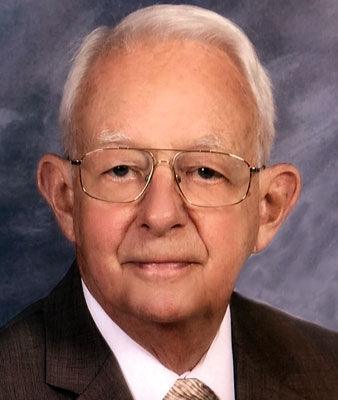 WILLIAM M. MYERS SR
CANFIELD – Services were held by Pastor Jonathan Moore at the Higgins-Reardon Funeral Home, Boardman-Canfield Chapel Chapel, for Mr. William Marshall Myers Sr., 87, of The Inn at Ironwood, formerly of Sleepy Hollow Drive, who died on June 11, 2018.
Bill was born on July 12,1930, in Akron, to George W. and Margaret Haws Myers.
He attended Kenmore High School in Akron, where he played football. Bill enlisted in the U.S. Navy in 1948 and was honorably discharged in 1952. Bill served on the USS John Hood and was a proud member of the Tin Can Sailors Association.
Bill met the love of his life, Mary Frances Miller, and they were married on Oct. 31, 1953. They were married for 62 years upon Mary's death in March of 2016. They had three children.
Bill worked at Adamson United in Akron, which later became Wean United. He was transferred to the Youngstown plant in 1972 and later traveled extensively overseas for the company before becoming plant superintendent prior to his retirement in 1991. After retirement Bill worked with his daughter and son-in-law at The Embassy Banquet Centre, The Maronite Center and the Inner Circle Pizza in Canfield, where he was known as the lollipop man.
Bill was a Mason for over 60 years and a member of the Argus Lodge No. 545. Bill was involved in the Canfield Boys Baseball Club as a coach and holding several offices. Bill was a member of the Canfield United Methodist Church where he served as a trustee.
He enjoyed bowling in the Canfield bowling league but his true passion was golfing with his buddies at Valley Golf Club. Bill enjoyed traveling with his wife Mary and attending the events of his grandchildren where he was their biggest fan.
Bill leaves two sons, William (Debra) Myers Jr. of Dayton and David Myers of Sarasota, Fla.; his daughter, Karen (Michal) Naffah of Lake Milton; and four grandchildren, Amanda and Matthew Myers of Dayton, Mallory (Jeffrey) Padurean of Canfield and Morgan Myers of Osprey, Fla. Bill also leaves two sisters, Barbara (Dar) Brown and Inda Knight of Akron.
The Myers and Naffah families would like to thank Ed and Diane Reese and the staff at Briarfield Manor Rehab and The Inn at Ironwood for the compassionate care given to Bill the last few years.
In lieu of flowers, please donate to The Till Open which supports extracurricular activities at Canfield High School. Donations can be made to The Till Open, 340 Neff Dr., Canfield, Ohio 44406 in Bill's memory.
A casual celebration of Bill's life will be held July 1, from 1 to 3 p.m. at The Hampton Inn and Suites in Canfield. A military service will be held at 3 p.m. following the celebration.
Please visit www.higgins-reardon.com to view this obituary and send condolences.
Guestbook Entries
« Be the first to sign WILLIAM M. MYERS SR guestbook.
---