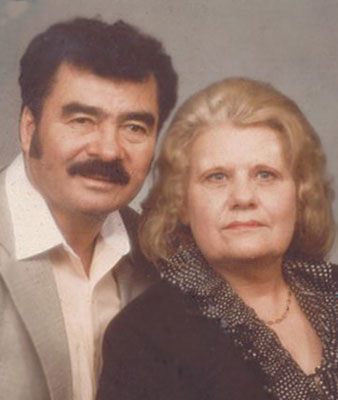 RADAMES SANTIAGO
"Together Again"
YOUNGSTOWN - Radames Santiago, 86, passed away peacefully on Saturday, June 23, 2018.
He was born Sept. 2, 1931, in Adjuntas, Puerto Rico, the son of Rafael Santiago and Nicolasa Plaza.
He came to the United States at the age of 17, where he learned to speak English on his own. Radames was a wonderful and dedicated husband, father, grandfather and great-grandfather.
Radames worked as a laborer at Republic Steel, retiring after 35 years of service. His dedication and committed work ethic were immeasurable. He only missed one day of work in 35 years. He was a member of United Steel Workers No. 1331.
His wife, the former Pearl Elizabeth Starr, whom he was married to for 60 years, passed away Aug. 6, 2016.
Radames enjoyed boxing as a teenager and loved to watch it on television. In his spare time, he enjoyed gardening, swimming, and dancing with his wife. He also loved to cook and share his Puerto Rican cuisine with family and friends.
Radames will always be remembered lovingly by his three children, Gladys (Edwin) Morales of Boardman, Albert (Robin) Santiago of North Lima, and William (Susan) Santiago of Canfield; seven grandchildren, Treisha (Jim) Brumbaugh, Natalie (Patrick) Lane, Justina Santiago, Albert Santiago Jr., Eddie (Angela) Morales, Joey Morales, and Mateo Santiago; two great-grandchildren, Savannah and Harrison Morales; sister Lucy Leija of Salem; and Louis Santiago of Utuado, Puerto Rico.
Besides his parents and wife, he was preceded in death by son, Radames Santiago Jr.; sister Irma Quiles Santiago; brother Rafael Santiago; and great-granddaughter, Kailyn Nicole Orr.
"He will always be in our hearts forever."
Friends may call from 5 to 7 p.m. on Wednesday, June 27, 2018, at the Rossi Brothers & Lellio Funeral Home, 4442 South Ave. in Boardman, followed by a 7 p.m. funeral service.
Family and friends may visit the Book of Memories at www.rossifunerals.com to view this tribute and send condolences to Radames's family.
Guestbook Entries
Our Deepest Sympathies
"Robin and Al we are so sorry for your loss. Enjoy your great memories you had with your Dad."
» Cherie & Frank Day on June 26, 2018
Sign the Guestbook
---