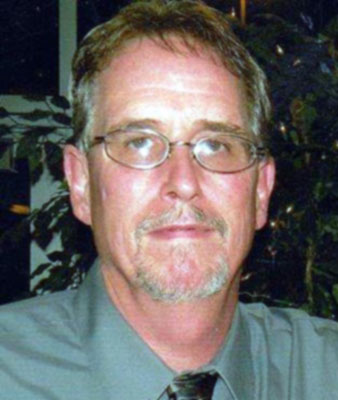 TERRY L. RAY
YOUNGSTOWN - Terry L. Ray, 54, passed away Monday afternoon, June 11, 2018, at St. Elizabeth Health Center in Youngstown.
Terry was born April 5, 1964, in Youngstown, a son of the late Harold and Edith Marshall Ray, and was a lifelong area resident.
Mr. Ray was a 1982 graduate of Austintown Fitch High School, and was a graduate of the Cisco Networking Academy. He attended Youngstown State University and Kent State University.
Terry worked for more than 20 years as a dispatcher for a government nutritional program, and for a commercial trucking company. More recently, he was self-employed as a painter and a home improvement and renovation specialist.
Terry loved his family dearly, and he enjoyed attending his daughters' athletic events. Terry was a big sports fan, and he liked golf, Cincinnati Bengals football, Pittsburgh Penguins hockey, and he was an avid fan of the Cleveland Cavaliers. Terry also enjoyed spending time in the kitchen cooking for his family and friends.
Mr. Ray was a member of St. Christine Church in Youngstown.
He leaves his wife of 27 years, Karen Zemko Ray, whom he married Sept. 29, 1990; his daughters, Kaylee and Alyssa Ray; a sister, Sharon (Larry) Roth of Austintown; several nieces and nephews; his in-laws, Ruth and Bill Zemko; two sisters-in-law, Mariann Ray of Florida and Christine (Robert) Gerst of Canfield; many extended family members; many, many friends; and his dog, his "baby," Dodger.
Besides his parents, Terry was preceded in death by two brothers, infant Thomas Ray and Larry Ray.
Family and friends may call from 11 a.m. to 1 p.m., Friday, June 15, at St. Christine Church on South Schenley Avenue, where a Mass of Christian Burial will be celebrated at 1 p.m.
Interment will follow at Green Haven Memorial Gardens.
Arrangements have been entrusted to Kinnick Funeral Home, 477 N. Meridian Road, Youngstown.
Please visit kinnickfuneralhome.com to view and share this obituary, and to send condolences online to Terry's family.
Guestbook Entries
Prayers for family of Terry ray
"Karen, I am so sorry to hear of Terry passing."
» Sandra smotrilla on June 14, 2018
Prayers for family of Terry Ray.
"Karen we want you and your family to know that you all are in our prayers . Terry will always be in your heart now and forever . Love , Mark and Kathy Kiraly "
» Mark and Kathy Kiraly on June 14, 2018
In God's arms...
"I went to high school with Terry, lost touch after graduation. Thought about him many times over the years. It's hard to believe he is gone and very hard on the ones left behind when someone is so young. Romans 8:28 And we know that in all things God works for the good of those how love him, who have been called according to his purpose. You are all in my prayers. Terry is now at peace... God bless Ray family. Godspeed my friend "
» Lynn Sturgeon Coristin on June 14, 2018
My Deepest Sympathy
"Dear Karen, Kaylee & Alyssa: I am shocked and saddened to hear about Terry's passing. Please know you and your entire family are in my thoughts and prayers. May the Dear Lord give you strength during this time of sorrow. Hugs. Gina"
» Gina McHenry on June 15, 2018
Prayers for family of Terry Ray
"Kaylee and family, we want you to know that you and your family, our in our prayers. Mr. Terry will always be with you all forever. Love, The Johnson"
» Faith Johnson on June 14, 2018
Deepest Sympathy
"Karen, We are very sorry to hear of Terry's passing. Our thoughts and prayers are with you and your family. "
» Nick & Theresa Doinoff on July 9, 2018
Sign the Guestbook
---