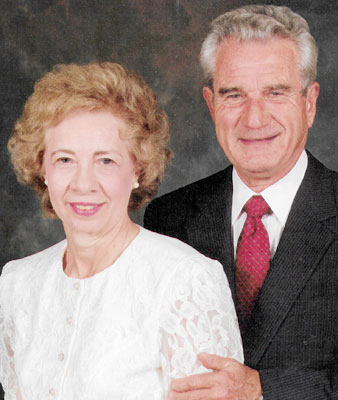 JOSEPHINE M. (ANZIVINO) VOGT
"Together Again"
POLAND – There will be a funeral service held on Friday, June 15, 2018, at 11:30 a.m. at the Prince of Peace Evangelical Lutheran Church, located at 2985 Center Road/State Route 224 in Poland for Josephine M. (Anzivino) Vogt, 91, who passed away surrounded by her loved ones.
Josephine was born July 6, 1926, to Eugene and Mary Anzivino in Youngstown.
After graduating from Chaney High School in 1944, she attended Youngstown State University. Josephine was employed at General Fireproofing Company where she met the love of her life, Richard "Dick" Vogt, and they were married on June 12, 1948. They were together for 65 years before his death on Oct. 27, 2013. Josephine also worked at Livingston's Department Store as her children, Rick and Judy were older.
Josephine will lovingly be remembered for her sweet giving self, her generous and kind spirit and her endless devotion to family and friends. She dedicated her life to them and making everyone happy. Cherished memories include her delicious Italian meals and pastries and doing so much for others.
Josephine leaves a son, Rick (MaryAnne) of Hudson; a daughter, Judy (Chuck) Vogt White of Poland; her grandchildren, Amy Roberts of Hudson, Bridget (Steve) Carlino of Columbus, Patrick (Heather) Vogt of Strongsville, Katie (Richard) Birdwisa of Canton, Brian White of Columbus, Kevin White of Pittsburgh, and Eric White of Poland; and 10 great-grandchildren. In addition, Josephine leaves a brother, Eugene (Bobbi) Anzivino of Palos Verdes, Calif. and Ernie (Rosemary) Anzivino of Northville, Mich.; four nephews; two nieces; and their children.
Josephine was preceded in death by her beloved husband, Dick; her parents; and one great-grandchild, EmilyAnne Birdwisa.
Friends and family may call on Friday, June 15, 2018, from 10:30 to 11:20 a.m. with the funeral to immediately follow at the Prince of Peace Evangelical Lutheran Church located at 2985 Center Road/State Route 224, Poland.
Arrangements have been entrusted to the professional care of the Rossi & Santucci Funeral Home, 4221 Market St. in Boardman.
Family and friends may visit www.rossisantuccifh.com to view this obituary, sign the guest book and send condolences to the Vogt and White families.
Material donations may be made to the Prince of Peace Lutheran Memorial Fund, 2985 Center Road, Poland, OH 44514
Guestbook Entries
« Be the first to sign JOSEPHINE M. (ANZIVINO) VOGT guestbook.
---