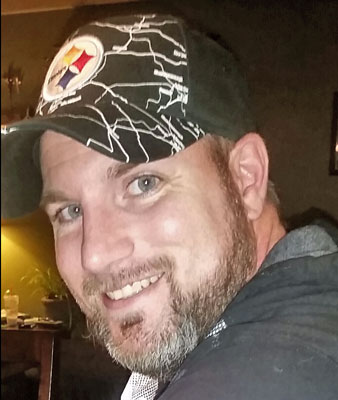 ERIC JAMES CLAUSEN JR
AUSTINTOWN – There will be a funeral service held on Saturday, June 16, 2018, at 10:30 a.m. at the Rossi & Santucci Funeral Home, 4221 Market St., in Boardman, for Eric James Clausen Jr., 35, who peacefully crossed over into eternal life on Sunday evening, June 10, 2018, at St. Elizabeth Medical Center with his loving family by his side.
Eric will always be remembered and loved by his family and friends for his contagious smile, sense of humor and generosity. Once you met Eric he left a lasting impression on everyone.
He was born Jan. 26, 1983, in Youngstown, the son of Eric Clausen Sr. and Kimberly Kent and was a lifelong area resident.
Eric was a 2001 graduate of Austintown Fitch High School and a member of the American Legion.
Eric proudly heard the call of his country and enlisted in the U.S. Air Force to defend the freedoms we live under today. He proudly served for 11 years and during that time was stationed for three years in England and served two tours of duty in Afghanistan before returning to the United States being stationed in Arizona. He earned the rank of Staff Sergeant and earned the following decorations and citations for his service, the Air Force Achievement Medal, the Meritorious Unit Award with 1 oak leaf cluster, the Air Force Outstanding Unit Award with 2 oak leaf clusters, the Air Force Good Conduct Medal, with 2 oak leaf clusters, the National Defense Service Medal, the Afghanistan Campaign Medal with four service stars and the Global War on Terrorism Service Medal.
Eric had many passions throughout his life. He enjoyed listening to music and being outdoors, but he especially loved being a father and spending time with his children. He was also a huge sports fan always rooting on his favorite teams the Pittsburgh Steelers, Cleveland Cavaliers and The Ohio State Buckeyes.
He leaves behind to hold onto his precious memories, his wife, the former Elizabeth M. Hacon, whom he married Oct. 3, 2017; a daughter, Adalynn; three stepchildren, Vanessa, Kenneth and Kinsleigh; his mother, whom he had a special bond with, Kimberly (Jack) Miller of Austintown; his father, Eric Sr. (Shirley) Clausen of Youngstown; a brother, Brandon Clausen of Youngstown; a sister, Jamie Clausen of Youngstown; grandparents John (Carol) Gordon; and grandmother Mary Miller; along with a host of aunts, uncles, cousins and friends.
Eric was preceded in death by his grandparents, Clement (Margaret) Clausen, and grandfathers Merel Kent, Leroy Ramsey and Jack Miller.
Family and friends may pay their respects on Friday, June 15, 2018, from 4 until 7 p.m. and again on Saturday morning from 10 until 10:20 a.m. at the Rossi & Santucci Funeral Home, 4221 Market St., in Boardman.
Burial will take place at Calvary Cemetery, in Youngstown, with military honors provided by the great men and women of the U.S. Air Force.
In lieu of flowers, material contributions may be made in Eric's name to the Juvenile Diabetes Research Fund, 26 Broadway, 14th Floor, New York, NY, 10004
Family and friends may visit www.rossisantuccifh.com to view this obituary, sign the guest book and send condolences to Eric's family.
Guestbook Entries
Clausen
"Sorry for your lost prayers for your family"
» Sadie meyerssadie21@gmail.com on June 15, 2018
Condolence
"To the Clausen family I am so sorry for your loss & his passing peacefully will bring much comfort to all he left!"
» Jimmy Rearick on June 16, 2018
Prayers from Florida
"GOD BLESS. Prayers from my Family to Yours and I want to thank him and thank your whole Family for the Service to our Country!"
» David Batisky on June 17, 2018
so sorry.....
"He will be missed here at ANU. He was always quick with a smile and a chat about his kiddos..... Rest in peace Eric"
» Joyce on June 14, 2018
Sorry
"Eric: My brother, I'm so sorry for your lost. "
» Mark Doinoff on June 15, 2018
Sorry
"Eric: I'm so sorry. God Bless the Family."
» Mark Doinoff on June 15, 2018
Sorry,
"Eric, I am so very sorry for your loss. A beautiful tribute and you can see his enthusiasm and love of life in his eyes and smile! Prayers for you all."
» Linda Bury on June 16, 2018
Kim and family
"Kim May God give comfort to you in this terrible loss. Even though I didn't know Eric, if he was anything like you, Kim, he was a fine man. May he Rest In Peace. God bless you and your family "
» Linda-Kim's gym friend on June 15, 2018
Sign the Guestbook
---