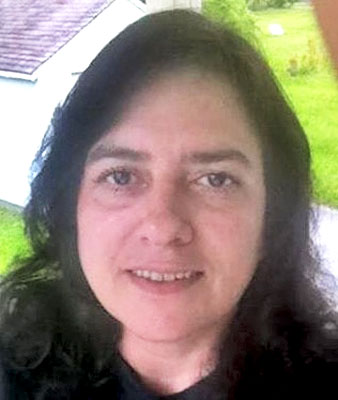 CYNTHIA 'CINDY' BRYER HECK
STRUTHERS – A memorial service will be held on Friday, June 15, 2018, at 4:30 p.m. at the Clemente Funeral Home in Struthers for Cynthia "Cindy" Bryer Heck, 53, who passed away quietly at her home on Monday, June 11, 2018.
She was born on Oct. 27, 1964, in Lowellville, to Edward and Angela Bryer.
She married William "Willie" Heck on Oct. 9, 1987, and was mother to two children, Scott William Heck and Veronica Lynn Heck.
She is survived by her husband of 30 years and her children. Also surviving are three sisters, Kathleen "Kitty" (Richard "Dicky") Olson, Pam Talaganis, and Debra (Mark) Carney and one brother, Edward (Marie) Bryer, all residents of Lowellville. She also leaves four sisters-in-law, Eva Sullivan of Poland, Barb (Terry) Masluk of Austintown, Marjorie (Carl) Rossler of McDonald, and Beverly (John) Lorant of Beach City.
Cindy was preceded in death by both her parents.
Cindy was an early resident of Lowellville and moved to Struthers shortly after her marriage. She graduated from Lowellville High School in 1983 with a Certificate in Stenography from MCCTC. Her love for people was evident in her long career as a waitress where she always served with a smile and entertained many repeat customers.
Cindy's first love was always her family. This was followed by her love for pool. She participated in many APA pool leagues where her adept skills helped lead several of her scotch doubles teams to the championships in Las Vegas. This is a hobby she shared with her husband for many years. She was a talented and creative baker who happily shared her craft with both friends and family alike. This was just another way of showing her love for the people around her.
Friends may call on Friday at the funeral home two hours before the service from 2:30 to 4:30 p.m.
Following the services a dinner will be held at The Riverview, 213 Water St., in Lowellville, in remembrance of her life.
"While happy in heaven she will be sadly missed by those of us who loved her."
Visit www.clementefuneralhomes.com to view this obituary and send condolences.
Guestbook Entries
sorry
"my very deepest condolences"
» craig esposito on June 13, 2018
Condolence
"With sympathy we are sorry for your loss of Cindy."
» John and Debbie Bell on June 17, 2018
Condolences
"So sad to hear about the passing of Cindy. We served in Lyon Plat PTA together and had a lot of great times. She was a good person and friend. Prayers for her family. "
» Leanne Lordi on June 14, 2018
Sympathy
"Bryer and Heck Family, So sorry for the passing of Cindy. My prayers and thoughts are with you all during this most difficult time."
» Jim Bisconti (California) on June 14, 2018
Sign the Guestbook
---