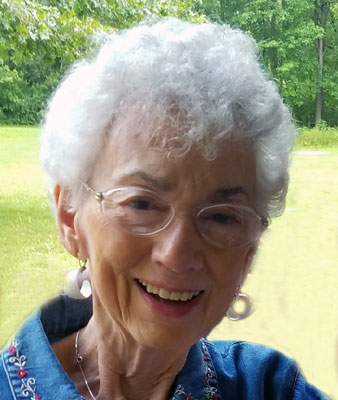 MARY JANE COLLINS
YOUNGSTOWN – There will be services held at 11 a.m. on Saturday, July 14, 2018, at the Lord of Life Lutheran Church in Canfield, for Mary Jane Collins 82, who passed away surrounded by her loving family on Monday July 9, 2018, at Ohio Living Park Vista in Youngstown.
Mary Jane was born Oct. 18, 1935, in Pittsburgh, a daughter of Andrew and Margaret "Peg" Lewis Lehn.
She was a 1953 graduate of Hubbard High School.
Mary Jane retired as the executive assistant to the regional president of National City Bank in Canton in 1997.   She was in banking a total of 40 years also working in Hubbard, Niles and Massillon.
She enjoyed painting, quilting, dogs and horses and bird watching.
She was a member of the Lord of Life Lutheran Church in Canfield.
Her first husband, Edward Rigby, whom she married in October of 1955, passed away in November of 1976.
Mary Jane will be sadly missed by her family, her husband, R. Langley Collins, whom she married Aug. 9, 1980; her children, Edward A. (Eileen) Rigby of Hubbard, Gail Ann (Sam) Conti of Boardman, Holly Lynn (Jim) Jones of Youngstown, Julia Collins of San Diego, and Sarah Bennett of Minnetonka, Minn.; and seven grandchildren, Erik (Amanda) Rigby, Erin (Dave) Nelson, Evan (Lauren) Rigby, Elissa (TJ) Costanza, Nicole Conti, Ian Jones, and Chloe Bennett; and a great-granddaughter, Norah Baker.
She also leaves her brother, Richard (Cherie) Lehn of Boardman, and her sister Carol Jean (Bud) Niehaus of Youngstown.
Besides her parents, she was preceded in death by her first husband; her brothers, Andrew "Sonny" Lehn, and Tom Lehn; and her sister, Ann Louise McMillen.
There will be calling hours on Friday, July 13, 2018, from 6 to 8 p.m. at the Stewart-Kyle Funeral Home in Hubbard and Saturday, July 14, 2018, prior to the service from 10 to 11 a.m. at the Lord of Life Lutheran Church in Canfield.
Mary Jane will be laid to rest at Maple Grove Cemetery in Hubbard.
Special thanks to the staff of Ohio Living Hospice and Ohio Living Park Vista for their kindness and care.
Memorial contributions may be made in her memory to Alzheimer Association, 3695 Boardman Canfield Road, Suite 301 B, Canfield, OH 44406 or Lord of Life Lutheran Church, 550 N. Broad St., Canfield, OH 44406.
Family and friends are invited to visit the funeral home's website at www.stewart-kyle.com to share memories and condolences.
Guestbook Entries
Sympathy and Love
"Mary will be missed by all who met and loved her. Her warmth, sweet presence and strength are memorable and were a strong support to those she loved. We will remember her and pray for you all. God's blessings at this time. "
» Bernadette and Kurt Beler on July 12, 2018
My deepest condolences
"Now is Mary's time to rest...may Jehovah God the God of all comfort...comfort her family and friends in this time of need...2 Corinthians 1:3,4"
» KMB on July 29, 2018
Sign the Guestbook
---