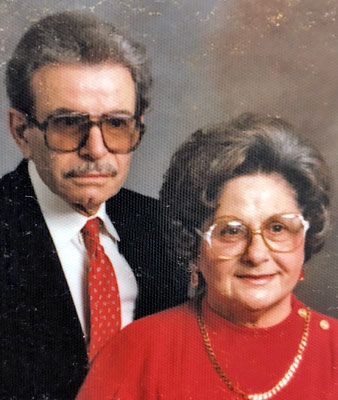 CECELIA MARIE TONDY
STRUTHERS - Private family services were held for Cecelia Marie Tondy, 95, who passed away Monday morning at Assumption Village.
Cecelia was born Sept. 14, 1922, in Campbell, a daughter of the late Joseph and Mary (Kalafut) Cvengros.
Cecelia was a 1940 graduate of Campbell Memorial High School. During World War II she worked for General Fireproofing and then for LaFrance Dry Cleaning. She devoted her life to raising her four children. Cecelia was a member of the First Catholic Slovak Ladies Association No. 344 in Campbell. She enjoyed baking, cooking and going on bus tours. Her greatest joy was babysitting her grandchildren.
Her husband, Anthony V. Tondy, whom she married June 13, 1946, passed away Aug. 12, 2003.
Cecelia leaves her daughter, Paulette DiLullo of Boardman; three sons, Anthony J. (Karen) Tondy of Columbiana, Gary S. (Nancy) Tondy of Boardman, and Larry (Nancy) Tondy of Struthers; three grandchildren, Melissa (Patrick) Williams, Mary (Joseph) Richley, and Olivia Tondy; and two great-grandchildren, Nathan and Jocelyn Richley.
Cecelia was also preceded in death by a son-in-law, George DiLullo; two sisters, Margaret Cvengros and Helen Hudak; and two brothers, Frank and Steven Cvengros.
In lieu of flowers, material tributes may take the form of donations to Hospice of the Valley, 5190 Market St., Boardman, OH 44512.
Professional arrangements are being handled by the Higgins-Reardon Funeral Homes, Poland Chapel.
Guestbook Entries
Our Deepest Sympathy
"We would like to express our deepest sympathies on the loss of your mother. Take comfort in cherishing all the memories you made with her. "
» Dean and Rosie (Mogolich) Mastell on July 13, 2018
Thoughts and prayers
"To all of you, I would like to express my sincere sympathy in the loss of your mother. Losing your mom is like losing a piece of your heart. Find comfort in your fond memories of her."
» Sandi DiBacco on July 12, 2018
My deepest condolences
"Now is Cecelia's time to rest...may Jehovah God the God of all comfort...comfort her family and friends in this time of need...2 Corinthians 1:3,4"
» KMB on July 29, 2018
Sign the Guestbook
---