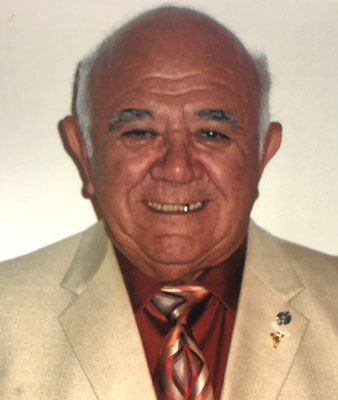 PHILLIP N. PANNO
YOUNGSTOWN - A Mass of Christian Burial will be held Thursday at 10 a.m. at of Our Lady of Mount Carmel Basilica in Youngstown, officiated by the Very Rev. Msgr. Michael Cariglio for Mr. Phillip N. Panno, 87, who died Sunday afternoon at Briarfield Manor.
Phillip was born May 28, 1931, in Youngstown, a son of Phillip and Rose (Grizzuti) Panno.
He was a 1951 graduate of East High School and attended the University of Miami. Phillip was honorably discharged from the U.S. Army and later employed by Ohio Bell for 35 years as a lineman and phone installer.
Phillip was very athletic in his youth and achieved awards in both football and boxing, including All City and All State Honorable Mention in high school football and heavy-weight boxing champion at Fort Benning while serving in the Army. Phillip was an avid bocce player at the Arco Club where he enjoyed competing against family and friends. He was president of the East Side Kiwanis Club, a 2nd Ward Councilman and a member of the church. He was a fun loving, light-hearted and generous individual.
Phillip leaves his two brothers, Alex (Elizabeth) Panno of Austintown, and George (Zoe) Panno of Canfield; his sister, Mary (Anthony) Barone of Youngstown; and nieces and nephews, as well as great-nieces and great-nephews.
He was preceded in death by his parents and his longtime companion, Eva Orechoneg.
"He will forever remain in our hearts."
Friends may call Thursday from 9:00 to 9:45 a.m at the church.
Arrangements are by the Higgins-Reardon Funeral Home, Austintown Chapel.
Guestbook Entries
RIP Phillip
" I would like to extend to the Panno family my deepest sympathy . So very sorry for your loss I know how much you all loved your bother and uncle. The Panno family has always been a big part of our family to. I know he will be deeply missed. Sincerely Anna & Dave Magura "
» Anna MaguraAnna on July 11, 2018
With our deepest sympathy,love and prayers
"We send our prayers of comfort to all the Panno family, so sad to hear of Phil's (Chuckie) passing.. Thinking of all the wonderful memories held dear in my heart from Verona Ave of our families. God's love and comfort prayed for all of you.❤️🌹✝️"
» Tony & Junemarie Navy on July 12, 2018
Rembering a friend
"To all the Panno family, our deepest sympathy. For a couple weeks while Fred was at Briarfield, he and Phip shared a room, enjoyed several suppers together in a small but enjoyable dining room.Rocky Fumi, another eastsider, joined uswe had great conversations about the east side and arhletes at EAST high school. We will keep Phil and the entire Panno family in our daily prayers."
» Rita &Fred Vicarel on July 12, 2018
Sign the Guestbook
---