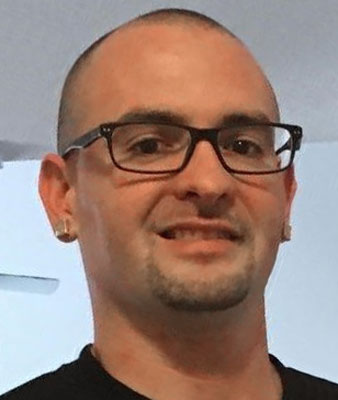 DENNIS B. MCKENNEY III
YOUNGSTOWN – Dennis B. McKenney III, 34, left this earth on July 4, 2018.
He was born at St. Elizabeth Hospital on May 18, 1984, to Kathleen and Dennis McKenney II.
Dennis was a Christian and loved everyone he met.
He graduated from Chaney High School in 2002. Dennis briefly went to Youngstown State University in 2011.
He was a good soul, brother, son and father. He touched the lives of everyone he met and tried so hard to help others. Dennis was loved all over the world, from the United States to Ireland and England. He did not want to leave this earth.
He will forever be remembered by his three children, Matilda Rain, Arianna and Christian; his parents; and his brother, Kevin McKenney. He is also survived by the Sullivan family from Ireland, Maureen, Paddy, and Maureen's children.
Services will be held at the Sovereign Grace Chapel, 2012 Mahoning Ave. on Tuesday, July 10, at 2 p.m. Everyone that loved him are welcome to pay their respects. "We have another angel in Heaven."
All arrangements have been entrusted to the Directors at the Conley and Vanden Berg Funeral Home.
Guestbook Entries
I love You my sweet friend.
"Dennis, when I first spoke to you it was instant happiness. you have so much support, love, and caring people in your life. This week was so hard for me to swallow because you are gone too soon. I hope you are ok and I will continue to support your family going through this unforeseen time. I will miss our talks and laughs and late night discussions. You have been an angel and I just wish it wasnt this way. God Bless you and please watch over your family and myself. xoxo forever. -melissa"
» Melissa Taylor on July 9, 2018
RIP
"Dear Dennis I will miss your positive outlook on life. You have touched us all in some special way. I will go home and I will be there for Kathleen and Maureen if needed. You will be missed. I know you will be watching over all of us. Slaint'e xxxxx"
» Colleen Anderson aka Josephine O'Brien on July 9, 2018
Your going to be missed
"Im not able to get out of work to be there. You willbe missed by everyone. You were in most of my child hood memories. You were always there. Ill never forget the fum and good times. I know your heaven and god has a plan for all of us. I love you bro forever going to be missed. See you again some day. "
» Shawn georgiadis on July 9, 2018
My heart my love and my soul
"Dennis You were always my heart. Arianna and I loved you more than words can express. No matter the situation. I always stuck by your side. Your heart was huge and full of love and life. 5 years of my life was dedicated to you and our daughter. Life will never be the same for any of us ever again. I will always have a void and a piece of my heart missing. I know he is in heaven will the lord. Dennis and I attended church, bible studies, and couples sessions to learn more about the lord. I miss you hammy. I tried to fight your battle for you and protect you from your demons. I'm so sorry I couldn't of done better. Fly high my angel and forever protect your daughter. She will always know who you are no matter what!! "
» Jennifer Zackasee on July 9, 2018
You will for sure be missed my friend
"Dennis I remember all good times we had together whether it was talkin, hanging out, laughing wish you didn't go this way when I seen this it brought tears to my eyes Rest In Peace my friend you will be missed. Carrie Christoff "
» Carrie Christoff on July 10, 2018
Rest in heaven, D.
"Dennis, I never got the opportunity to meet you, but just by talking to you and getting to know who you were; you easily could tell you were a wonderful soul. You were passionate about the things and people you loved. Especially your family. Thank you for all the times you were around when I needed a friend, and most of all just always being YOU. You will be missed by everyone who knew you, and got the pleasure of knowing you. Fly high! RIP."
» Samantha on August 10, 2018
Sign the Guestbook
---