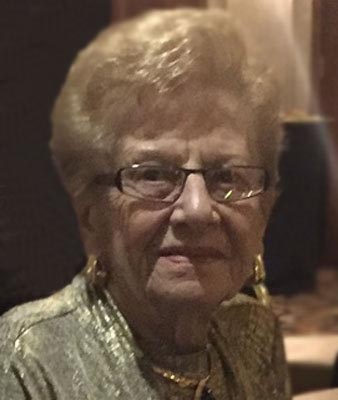 FELICE MIRKIN
YOUNGSTOWN – Felice Mirkin passed away on Thursday, Jan. 11, 2018, at the age of 93, following a lengthy illness.
Felice was born on March 29, 1924, in Brooklyn, N.Y., to Kitty and Frank Gootnick, where she grew up and graduated from Erasmus Hall High School in 1942.
As a young adult, like many New Yorkers of that era, she vacationed every summer with her family in the Catskills. One such summer, she was introduced by friends to Dan Mirkin from Youngstown, with whom she enjoyed a summer romance before drifting apart. Back in Manhattan, Felice was working for the USO in the Empire State Building when, on July 28, 1945, a plane hit the building resulting in 14 deaths and grabbing the attention of everyone in the nation, including Dan Mirkin, who looked her up and called on her to make sure she was safe. This turned out to be a momentous phone call and Dan made plans shortly thereafter to visit Felice in New York. In 1946, they were married.
A New Yorker at heart, Felice never learned to drive a car or ride a bicycle, however she adjusted quickly to life in Ohio and came to appreciate the slower pace and developed many lasting friendships. For many years, coffee was hosted at her house every day after the kids left for school, until, eventually, she would work as bookkeeper for one of the Mirkin family businesses, Mall Shops Inc. She loved Bridge, Majong, and a good episode of Cash Cab or The Chew. She was an avid knitter who made sure each and every one of her grandchildren had a piece to remember her by.
She was predeceased by her husband, Dan Mirkin; an infant son, Gary Mirkin; as well as her sister, Miriam (Paul) Silberman of Lenox, Mass.
She will be missed by her daughter, Toby (Fred) Portman of Columbus; son Ira (Amy) of Youngstown; as well as grandchildren Katie (Jeff Matteuzzi) Portman, Nikki Portman, Lindsay (Jeff) Stewart, Scott (Maxy) Mirkin, and Kevin (Tanne Walker) Mirkin; five great-grandchildren; sister-in-law Florence Mirkin; and numerous nephews and nieces.
Funeral services will be held in Youngstown, on Sunday at 11 a.m., with calling hours at 10:30 a.m., at the Rodef Sholom Cemetery Chapel at Tod Cemetery on Belmont Avenue.
Contributions to Heritage Manor would be greatly appreciated.
Guestbook Entries
Your mother
"Ira, I am sorry for your loss. Cal"
» Ron Calabrese on January 13, 2018
Condolences
"My deepest sympathies to go out to Toby, and Ira, she is at piece now, know more pain, may she REST IN PEACE."
» Daniel J. Malkin on January 13, 2018
Condolences
"Toby - to you and your family, our deepest sympathy on the loss of your mother - remember the happier times - be well!"
» Stephen Scheinberg on January 13, 2018
Thinking of you
"Toby, Ira, I am so sorry to hear of the loss of your mother. She was a special lady, always welcoming me in when I would stop by whenever I was in Youngstown. I had never heard the story about how your parents met and enjoyed it immensely. Love and hugs to you both."
» Trish Jones on January 13, 2018
Condolences
"Dear Toby, Please accept our deepest condolences on your mother's passing. So fortunate for you she lived such a long life But always so difficult and sad to lose a parent. Our thoughts are with you and your entire family Love Susie and Gary Rozanczyk"
» Susie and Gary Rozanczyk on January 13, 2018
Condolences
"Toby and Ira , I have known and respected your mother my entire life . I am out of town or I would have mourned with you in person . My best to you both.//Manning"
» Manning on January 14, 2018
Your beloved mother
"I am so sorry for your loss.May your mother's memory be a blessing"
» Debbi Banchefsky on January 14, 2018
Sign the Guestbook
---