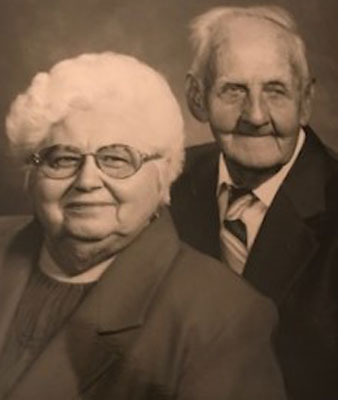 ELEANOR HAYER GOSKIE
"Together Again"
STRUTHERS – Eleanor Hayer Goskie was born on May 24, 1929, a daughter of the late Louis and Helen Yurick Hayer. She was a lifelong resident of Struthers.
She graduated from Struthers High School.
She married William Patrick Goskie on May 24, 1948.
She worked at several retail stores including Islay's downtown Youngstown, Kress' Five and Ten Store, also in downtown Youngstown. She worked for J.C. Penney in Boardman.
She had a passion for sewing that led her to a lengthy career with the Singer Corporation. She started sewing at age eight, making doll clothes. She prided herself in being a perfectionist as a seamstress, making wedding gowns, christening outfits, all types of clothing, and crafts of all kinds. She not only sewed for herself but, she did alterations for others and taught classes teaching others to sew in several of her jobs. She studied tailoring with Ben the Tailor of Youngstown. She retired from the Singer Corporation and worked again teaching sewing at Electo-Hygiene in Boardman.
She loved people and everyone knew her for her smile. In fact in high school, she was nick-named "Smiley." Her family was always important to her. She was always a caregiver, taking care of her parents, children and grandchildren and great-grandchildren. She was always there to help, no matter what you needed without question.
After her retirement, she did a great deal of volunteer work, making wheelchair and walker bags for hospitals and nursing homes, numbering in the thousands.
She was a member of the Struthers VFW Post 7538 Ladies Auxiliary. One of the projects she was instrumental in through that organization was a donation of anger/love pillows, donated to the Mahoning County Sheriff's Dept. The pillows were given to the patrolmen to keep in their patrol cars to give to children. They had a dual purpose. They could be cuddled for comfort, or they could be punched to be a release for anger.
Eleanor touched so many lives and did so much good in her lifetime and she will be missed by so many.
She leaves to mourn her loss, her son, Mike Goskie Sr. (Janet) of Struthers and her daughter, Carol Brenner (James) of Austintown. She also leaves her grandchildren, Mike Goskie Jr. (Sheila) of Lowellville, Tabitha Maravola (Robert) of Youngstown, Christine Belcourt (Joseph), Colleen DeChellis (Jeffrey) of Poland, Meredyth Betro (Adam) of Canton, and Candice Babjak (Mark) of Boardman. She also cherished her great-grandchildren, Brooklyn Mede of Atlanta, Jake Jones of Poland, and Adriana Babjak of Boardman. She leaves her sister In law, Mary Ellen Stefonek and many extended family members, nieces and their families.
In addition to her parents, Eleanor was preceded in death by her husband, William; her in- laws, Mike and Catherine Goskie; her brother, James Hayer and his wife, Mary; brother and sister-in-law Max and Hilda Parker; and brother-in-law Raymond Stefonek.
Friends and relatives may pay their respects on Sunday, Jan. 14, 2018, at the Kirila Funeral Home Inc. from 1 to 3 p.m.
There will be a prayer service on Monday, Jan. 15, 2018, at 9:30 a.m. at the funeral home and a funeral Mass following at Christ Our Savior Parish, St. Nicholas Church at 10 am. Burial will be at Forest Lawn Cemetery.
The family would like to thank Maplecrest Nursing Home of Struthers, where Eleanor made her home since 2010. The care and compassion she received there will always be remembered. She will be missed there by so many. The family would also like to thank Hospice of the Valley for the compassionate care they provided in her last days and hours to make her transition a peaceful one.
Guestbook Entries
Daughter of Kenneth Wilson, Singer Sewing Mach.
"Wanted to express how much my Dad cared for and respected Eleanor in the many years they worked together at Singers. Dad passed in 2015, but he had many stories of the laughs they all shared. I can hear your mothers voice as she would scold him for his teasing "Come on now Kenny". I don't know how they got anything done with him in management! I had your mother for maybe three sewing lessons when I was about 12, and I just couldn't handle her level of expectation...it wasn't easy at all...but many really loved her class and enjoyed her talents. So "here's to you Eleanor, may your fabric glide easy and may you get your turn to tease Kenny Back" RIP> "
» Nancy Wilson Sakmar on January 15, 2018
Sign the Guestbook
---