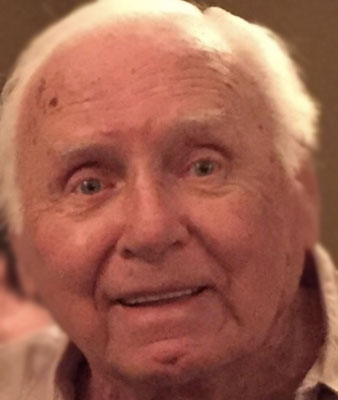 JOSEPH J. KRUMPAK SR
McDONALD — Joseph J. Krumpak Sr., 96, passed away on Sunday, Jan. 7, 2018, at Ohio Living Nursing Home in Youngstown.
Joe was born on Jan. 21, 1921, in Greenville, Pa., the son of James J. Sr. and Katherine Derrick Krumpak and moved to McDonald in 1926.  Joe moved back to Greenville with his family in 1929 for two years before returning to McDonald and living there for the remainder of his life.
Joe graduated from McDonald High School in 1939, where he excelled in football and basketball for the Blue Devils. Upon graduation Joe began working at U.S. Steel McDonald Works.
He began serving his country in the U.S. Army in November of 1942. Joe was in combat fighting in the Philippines and during his tour of duty received two Purple Heart medals and one Silver Star medal. Staff Sergeant Krumpak ended his tour in November of 1945.
Upon returning back to the states, Joe resumed working for U.S. Steel and on Nov. 8, 1947, he married Mary Nell Watts and for 70 years they shared a loving, faith and family oriented marriage that was blessed with four children, six grandchildren, and nine great-grandchildren.
Joe was a member of Our Lady of Perpetual Help Church and a pillar in the community, serving in various roles during his lifetime including 25 years as a volunteer fireman, senior citizen van driver, and little league coach just to name a few. Joe, along with the late John Batcho, began the McDonald Midgets football program in 1959.
Joe was a McDonald Blue Devil through and through and would attend every game he possibly could because he loved to watch the young players competing. He cherished attending his children's, grandchildren's, and great-great-grandchildren's games, recitals, concerts and events. Joe enjoyed many activities including traveling, bowling and golf which he played regularly until age 95 and still managed to shoot close to par. Joe also loved the Fighting Irish of Notre Dame and traveled to South Bend dozens of times during his lifetime to cheer on the Irish. He was also a big New York Yankees fan.
Joe worked at the U.S. Steel McDonald Works for 41 years, 17 as a foreman, before retiring in July of 1980. Joe was a man who loved his family and you always knew where you stood with him because even if you didn't ask him he would tell you. That was a characteristic of Joe's that many people loved, most people appreciated, and all people respected.
Joe leaves to cherish his memory, his children, Mary Jo Krumpak of McDonald, William (Diane) Krumpak of Canfield, Frank Krumpak of Girard and Joseph J. (Teresa) Krumpak, Jr. of McDonald; his grandchildren, Brad (Heather), Josh (Jessica), Michelle (Pat), Alyssa (Mike), Matthew (Alexa), and Cole; and great-grandchildren Ava, Ella, Zane, Juliana, Joshua, Joseph, Bennett, Laurel, and Nathan.
Besides his parents, Joe was preceded in death by his loving wife of 70 years, Mary; his sister, Ann; and brothers Jim, Steve, and Frank.
Funeral services will be held on Thursday, Jan. 11, at 7 p.m. at the Blackstone Funeral Home, where the family will receive relatives and friends from 4 p.m. until the time of the service. Joe will be laid to rest at Calvary Cemetery.
Please visit www.blackstonefuneralhome.com to view this obituary and to send any condolences to the family.
In lieu of flowers the family requests that donations be made in Joe's name to the McDonald High School Athletic Department.
Guestbook Entries
« Be the first to sign JOSEPH J. KRUMPAK SR guestbook.
---