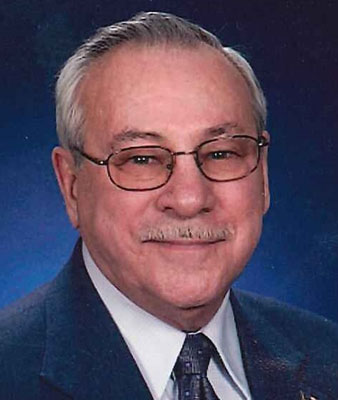 LLOYD H. GRUVER
CANFIELD - Lloyd H. Gruver, 84, died at his home on Dec. 30, 2017, after a short illness.
Lloyd was born on Oct. 15, 1933, in Youngstown, the seventh child of Jared and Florence Yeager Gruver.
He attended East High School until he left school in order to enlist in the U.S. Army on his 17th birthday. He did his 16 weeks of basic training at Ft. Knox, and was shipped out to Seoul, Korea. He did two tours of duty with the 32nd Infantry Regiment, 7th Division, in 1951 and 1952. While written up in Stars & Stripes and The Youngstown Vindicator over tossing a grenade in to a nest of an enemy mortar unit, he refused any awards. The only award he accepted and was proud of was the CIB, the Combat Infantry Badge. In talking about his days as a rifleman, he would only say he was a front line foot soldier and never knew where in Korea he was. He was injured when an enemy mortar shell exploded near him, blowing out his eardrum, which was not reconstructed until a decade later. After treatment in a hospital in Japan, he was shipped stateside to Camp Breckinridge in order to serve out his tour.
Upon his return to Youngstown, Lloyd worked as a milkman for the Isaly Diary Company. He was then hired into the General Motors Lordstown plant. He worked there until his retirement in 1994. He also volunteered as a firefighter with the Austintown Fire Department. He served with the department, rising to the rank of captain, and retired after nearly 40 years of service. He was a dedicated firefighter and was very proud when both a son and grandson also became firefighters.
Lloyd was a member of the Victory Christian Center in Coitsville, where he served as a deacon, he volunteered in the food pantry, he was a member of the Hospital Visitation Team, and was an altar worker. He was also a proud member of the Korean War Veterans Association. He served as the representative at large at Holiday Camplands in Andover.
Besides his parents, Lloyd was preceded in death by his first wife, Donna Jean States Gruver; his brothers, James and William; and his sisters, Dorothy, Betty, Florence, Eleanor and Donna.
In addition to his wife Marlene McHenry Gruver, he is survived by his daughter, Patricia Gruver of Austintown; his sons, James (Janice) Gruver of Hubbard, John Gruver of Las Vegas, and John (Kim ) McHenry of Austintown; grandsons David Gruver of Caldwell, Paul Gruver of Perrysburg, John (Allison) McHenry of Mars, Pa., Joshua (Courtney) McHenry of Youngstown and Jared McHenry of Austintown; great-granddaughters Bailey and Madison McHenry of Mars; and many nieces and nephews.
Services will be on Friday, Jan. 5, at 10 a.m. at the Lane Family Funeral Homes, Austintown Chapel. Friends may call on Thursday, Jan. 4 from 6 to 8 p.m and again from 9:30 a.m until the time of services on Friday.
Guestbook Entries
Honoring a Brother in Christ
"Marlene, I sorrow with you in your loss. but I rejoice with Lloyd in his victory. Blessings on you and the family during this time of grief."
» Pastor Bob Brookhart on January 3, 2018
Austintown lost a very good man
"Marlene and family, I will always recall such fond memories of Lloyd and his service to the Austintown community, 39 years on the Austintown Fire Department and his selfless dedication to veterans. Austintown has truly lost one of the best."
» Lisa L. Oles on January 5, 2018
My deepest condolences
"Now is Lloyd's time to rest... may the God of all comfort...comfort his family and friends in this time of need...2 Corinthians 1:3,4"
» KMB on January 7, 2018
Sign the Guestbook
---