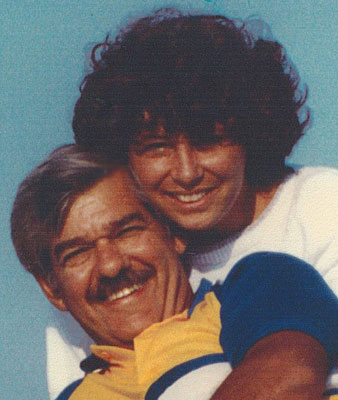 ANTHONY P. CICCOTELLI
"Together Again"
BOARDMAN - Anthony P. Ciccotelli, 79, passed away peacefully on Saturday, Dec. 30, 2017, surrounded by his loving family.
He was born July 12, 1938 in Youngstown, the son of Michael and Josephine Ciccotelli.
Anthony courageously served his country in the U.S. Army. He was a mechanic for Men-Ger Auto and retired from Barrett Cadillac.
His wife, the former Charlotte Patella, whom he married Sept. 30, 1961, passed away Dec. 23, 2003.
Anthony enjoyed camping and boating at Lake Berlin and fishing with his brother Pat. He taught his wife, children, and grandchildren how to water ski and anyone who visited the lake and wanted to learn. He also played bocce with his family and was a member of multiple winning teams. He enjoyed walking daily with his friends, mainly Bud Rezek, at the park or the mall. He was so proud of his six grandchildren, with whom he attended a countless number of sporting events throughout the years. He also enjoyed golfing with his son, sons-in-law, and grandsons. He volunteered at the Our Lady of Mt. Carmel Italian Festival beer tent and at the St. Vincent de Paul food pantry.
Anthony will always be remembered lovingly by his three children, Anthony D. Ciccotelli of Boardman, Angela M. (Patrick) Rovnak of Austintown, and Andrea (Michael) Koken of Canfield; six grandchildren, Samantha (Joe) Reedy, Patrick and Mariah Rovnak, Michael, Nicholas, and Courtney Koken; two step-grandchildren, Christen (Jeremy) Lapikas, and Jennifer (Joshua) Baker; three step great-grandchildren, Alex Lapikas, and Joshua and Benjamin Baker; two brothers, Pat Ciccotelli, and Bill (Mary Jo) Ciccotelli; two sisters, Judy (Bill) Holcomb, and Linda (Bruce) Wood; two sisters-in-law, Gwen Ciccotelli and Barbara Ciccotelli; brother-in-law John French; and many loving nieces, nephews, and cousins.
Besides his parents and wife, he was preceded in death by two brothers, Michael and Robert Ciccotelli; four sisters, Violet Ciccotelli, Caro l French, Dolly Merril, and Gloria Ciccotelli; and a sister-in-law, Donna Ciccotelli.
Friends may call from 9 to 11 a.m. on Saturday, Jan. 6, 2018, at the Rossi Brothers and Lellio Funeral Home, 4442 South Ave. in Boardman, followed by an 11:30 a.m. Mass of Christian Burial at St. Charles Borromeo Church, 7345 Westview Drive in Boardman.
Family and friends may visit the Book of Memories at www.rossifunerals.com to view this tribute and send condolences to Anthony's family.
Guestbook Entries
My deepest condolences
"Now is Anthony's time to rest...may the God of all comfort...comfort his family and friends in this time of need...2 Corinthians 1:3,4"
» KMB on January 10, 2018
Together Again!
" Andrea, Angela, Anthony, please accept my deepest sympathies on the loss of your father my Uncle Tony! I have nothing but the utmost love and respect for your father & of course your mother too! My first thought when I heard that he had passed was that he was finally going to be with the love of his life! Your parents were always loving to me and their kindness will never be forgotten. You were all blessed to have enjoyed their love for the years you had together. God Bless all of you & Peace now to Charlotte & Tony xoxoxoo"
» Mary Angeline on January 7, 2018
With deepest sympathy
" Andrea, Tony and Angela, I'm so sorry for the loss of your dad. Iwill always cherish the great memories I have with us at the lake and your house. Love and peace to you."
» Maryhelen Tucci Korleski on January 6, 2018
With deepest sympathy
"My deepest sympathy to Angela, Anthony,Andrea and your entire family. I have very fond memories of the sleepovers we had when we were young and how we kept your poor parents up all night playing crack the whip outside only to enjoy an awesome breakfast your dad would make the next morning. My prayers are with all of you today. God Bless "
» Jane (Marenkovic) Jackson on January 3, 2018
Condolances
"Please accept my sincere sympathies for the loss of Tony, Brother, Husband, Father, Uncle, Grandfather, Great grandfather & Brother-in-Law. He & Charlotte are together again. God bless his entire family. "
» Sue Patella on January 3, 2018
With Deepest Sympathy
"Please accept our deepest sympathy on the passing of your father. Anthony was a patient at this office for almost 40 years. A very likable man, he will be missed. "
» Martin C. Raupple, DDS on January 3, 2018
Sign the Guestbook
---