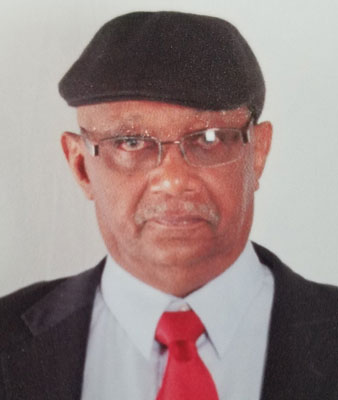 MARTIN L. 'SONNY' HOWIE JR
YOUNGSTOWN - A funeral service celebrating the life of Mr. Martin L. "Sonny" Howie Jr. will be held Saturday at 11 a.m. at the J.E. Washington Funeral Home in Youngstown.
Mr. Howie departed this earthly life on Friday, Feb. 9, 2018, with his loving family by his side.
He was born April 17, 1943, in Youngstown, a son of Martin Luther and Juanita Banks Howie Sr.
He was a 1962 graduate of East High School and proudly served in the U.S. Army.
He retired from General Motors after 31 years of service and enjoyed fishing, grilling, gardening, playing corn hole with his friends, and most importantly spending time with his family. He was a die hard Cleveland Browns fan who will be deeply missed by his family and friends.
Martin leaves to cherish his memory, his dedicated wife, Darlene Lee Howie, whom he married Nov. 21, 1998; his children, Martin L. Howie III, Tysha Wilson, Marquis Lee, all of Youngstown, and LaTisha Howie of Detroit; eight grandchildren; his brother, Willie Hatchett Jr.; his sister, Yvonne (Elder Carl) Irving; a special sister-in-law, Sherry Tate; a special brother-in-law, Roosevelt Lee Jr.; and a special nephew, Matthew Peagler; a host of other relatives and dear friends, including John Lattanzi, Joe Basora, and Neil Seidner.
He was preceded in death his parents, "Pops" Willie Hatchett Sr.; his brother, Kenny Howie; his sisters, Mildred Martin and Maggie Adam; a special aunt, Helen Howie; his mother and father-in-law, Roosevelt and Margaret Lee Sr.; and the mother of his children, Barbara Howie.
Friends may call Saturday from 10 to 11 a.m. at the funeral home. Interment will be in Oakwood Cemetery in Hermitage, Pa.
Ministry of Comfort and transitional care entrusted to the J.E. Washington Funeral Services Inc.
Guestbook Entries
Our Dear Friend
"The many memories over the years with you as Coach, neighbor, mentor, & Friend will stay with us! Thanks for being a blessing & inspiration to us all! The Comer, McCullough, $ Kamali Family"
» Adelle M. Comer on February 14, 2018
My Condolences
"I'm very sorry for your loss. I worked with Howie for many years at GM. He was an outstanding guy and an amazing friend. He will be dearly missed. "
» George Georges on February 14, 2018
Condolences
"Deepest condolences to the Family. Blessings from Our Heavenly Father flow into your Hearts and give you peace in this, your time of sorrow. From Sonny's classmate's Melvin Carruth {Hester}, and Katie Carruth Campbell."
» Katie Carruth Campbell on February 22, 2018
Sign the Guestbook
---