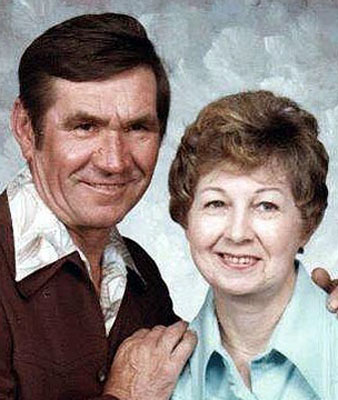 MARGARET BRESKO
"Together Again"
INDIANAPOLIS - Margaret Bresko, 96, formerly of Youngstown, passed away peacefully Saturday afternoon, Feb. 10, 2018, following a brief illness.
Margaret, who was known to all as "Peg," was born Aug. 17, 1921, in Arroyo, Pa., the daughter of the late Anna and George Elyko. She was later adopted by Steven and Mary Foltinsky, and was lovingly raised by her new family in Ohio.
She graduated from East High School and then dedicated her life to being a homemaker. Peg married John Bresko, on Feb. 10,1941. A carpenter, John built their house on Old Furnace Road in Youngstown, where they lived for 60 years.
Peg enjoyed volunteering at her parish, St. Mary Byzantine Catholic Church, where she was a member of the Altar & Rosary Society, The Golden Pillars, and of the Rosary Makers. She was extremely proud of the 4,000 plus rosaries she handmade that were distributed throughout the world.
As patriotic as she was pious, Peg supported many charities that helped veterans. She held various positions, including that of past-president of the Catholic War Veterans, John J. Buckley Post, No. 1292.
For most of her life, Peg reveled in her favorite pastimes, bowling at West Side Lanes and golfing at Mill Creek Park's Par 3 golf course. She loved playing cards her entire life, and did so up to one month of her passing. Though always friendly in competition, Peg loved to win!
A devoted sports fan, Peg followed "anything that was played with a ball" and was a huge supporter of The Ohio State Buckeyes and of the Cleveland Indians.
With her outgoing personality and sharp sense of humor, Peg made friends easily. Those who knew her have commented to her family, the impact she made on their lives.
Saddened by Peg's passing are her children, Carol (Ed) Burkhardt, Peggy (Bob) Krok, and Tom (Robin) Bresko; seven grandchildren; and 11 great-grandchildren.
Peg was preceded in death by her husband, John; a son John J. Bresko; and a granddaughter, Stacey Krok Grace.
Family and friends may call from 9 to 11 a.m., Friday, Feb. 16, at Kinnick Funeral Home, 477 N. Meridian Road in Youngstown.
Funeral services will begin at 11 a.m., Friday, at the funeral home, and will continue at 11:30 a.m. at St. Mary Byzantine Catholic Church on South Belle Vista Avenue in Youngstown.
Interment will follow at the parish cemetery on South Schenley Avenue in Youngstown.
In lieu of flowers, Peg's family requests donations be made to the Mindy Henning Scholarship Fund, Community Foundation of the Mahoning Valley, 201 East Commerce St., Suite 150, Youngstown, OH 44503; or to Fisher House Foundation (which offers diverse help to military and returning veterans), 111 Rockville Pike, Suite 420, Rockville, MD 20850.
Please visit www.kinnickfuneralhome.com to view and share this obituary, and to send condolences online to Peg's family.
Guestbook Entries
sympathys
"sorry for your loss we no longer live in ohio and now live in mooresville nc sorry carol 704-3608225 new number"
» bill and pat tucker on February 14, 2018
"Peg"
"I was so sorry to hear about Peg but so hoping all 96 of those years were spent doing what she wanted to do. I am looking out my window at your house remembering growing up with "the greatest neighbors ever". Your mom and dad were so proud of all of you and kept me up to date. I always loved the friendship Babe and Peg had and how they knew the other would be there if needed. That sure doesn't happen anymore. Hopefully they have met up again somewhere fabulous. Wherever it is Babe will certainly see it from the "half empty" viewpoint and Peg will redecorate it. Love to you all xoxox/Cyn"
» Cynthia Tareshawty on February 15, 2018
Sign the Guestbook
---