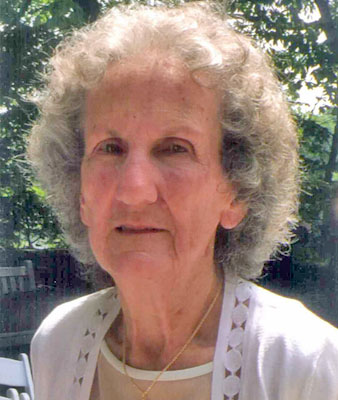 LILY MAE CROFT
NILES - Lily Mae Croft, 90, passed away Sunday evening, Feb. 11, 2018, at Liberty Health Care Center.
Lily was born on Dec. 24, 1927, in Warren, a daughter of the late Wesley Anderson Mason and Rachel (Karnes) Mason.
She was a graduate of Warren G. Harding High School.
Shortly after High School, she married her husband, George Croft, on Oct. 14, 1950. She worked at A&P Food Store and then Packard Electric until 1977. She was devoted to her husband and family, caring for them selflessly.
Lily will be deeply missed by her children, Albert Croft, Karen Dahman, George Croft, and Janet Rule; her eight grandchildren, who loved to have overnighters with their grandma, Alyssa Granitto, Adam Dahman, Eric Dahman, Suelene Roy, George Croft, Briana Croft, Anthony Rule, and Nick Rule; and six great-grandchildren, Ariel Dahman, Gabriella Croft, Vanessa Roy, Rachel Roy, John Roy, and Camila Burks, who loved to visit with her.
Besides her parents, she was preceded in death by her beloved husband of 65 years, George Croft, who passed away on March 3, 2016; her brother, Charles Mason, and her sister, Martha Vesper.
Funeral services for Lily will be held on Friday, Feb. 16, 2018, at 11 a.m. at the Lane Family Funeral Homes, Niles Chapel, 415 Robbins Ave. in Niles. Friends and family may visit one hour prior to services from 10 to 11 a.m.
Burial will take place at Niles City Cemetery, where she will be laid to rest next to her husband.
Memorial contributions can be made to Disabled American Veterans, 2044 Youngstown Road S.E., Warren, OH 44484.
The family would like to send a special thanks to all of Lily's caregivers.
Friends and family may visit www.lanefuneralhomes.com to send their heartfelt condolences.
Guestbook Entries
My deepest condolences
"Now is Lily's time to rest...may Jehovah God the God of all comfort...comfort her family and friends in this time of need...2 Corinthians 1:3,4"
» KMB on February 28, 2018
Sign the Guestbook
---