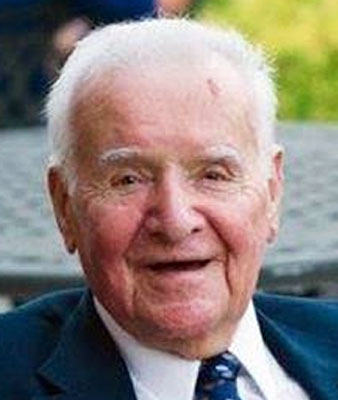 JOSEPH T. SCAVINA
BOARDMAN – A Mass of Christian Burial will be held at 10 a.m. on Friday, Feb. 16, 2018, at St. Luke Parish celebrated by Fr. Zachary Coulter, for Joseph T. Scavina, 85, who passed away peacefully surrounded by his family on Sunday, Feb. 11, 2018.
Joseph was born Jan. 8, 1933, in Youngstown, a son of the late Matthew and Mary Dovica Scavina.
Joseph graduated from Woodrow Wilson High School and then enlisted in the U.S. Army during the Korean War. Joseph worked as a motor inspector for the former Republic Steel and later in the maintenance department at both Masco and the Tippecanoe Country Club.
Joseph was active at St. Luke, including in the Holy Name Society and helping out at bingo. He was also active with JEDNOTA, where he held various officer positions, such as financial secretary and convention delegate.
He was very active and loved sports of all kinds. He was an avid golfer and bowler and in 2001, he bowled a 300 game. He cheered for all Ohio sports teams, from the Browns, Cavaliers, and Indians to Ohio State and even was a season ticket holder for the YSU football and basketball teams. He would often be found cheering his son, and later his nieces and nephews on during their various sports activities.
He leaves behind to cherish his memories, his beloved wife of almost 62 years, the former Nancy Cozza, whom he married June 2, 1956; his children, Denise Scavina Dutton of Boardman and Robert "Bob" (Jo Ann) Scavina of Columbus; his grandchildren, Charlie Joe (Katie) Vest, Sarah (Kevin) Holmes, and Ryan (Missy) Dutton; his great-grandchildren, Josie, Charlotte, Presley, and Peyton; his brother-in-law, Frank Mazzarino; his sister-in-law, Audrey Scavina; as well as many special nieces and nephews and their families, along with numerous dear friends.
Other than his parents, he was preceded in death by his beloved daughter, Diane; his brothers, Michael, Charles, and John Scavina; and his sisters, Mary Jacobs, Ann Cooper, and Helen Mazzarino.
The family has entrusted Joseph's care to the Kubina-Yuhasz-Wasko Funeral Home, where they will receive friends on Thursday, Feb. 15, 2018, from 4 to 7 p.m. and again one hour prior to the service on Friday at the church.
Joseph's family would like to extend special thanks to MVI Hospice, and all the medical professionals who helped care for Joseph in his time of need, especially his nephew, Dr. Michael Scavina.
Please visit online at www.waskofamily.com to view the obituary and send the family condolences.
Guestbook Entries
My deepest condolences
"Now is Joseph's time to rest...may Jehovah God the God of all comfort...comfort his family and friends in this time of need...2 Corinthians 1:3,4"
» KMB on February 28, 2018
Sign the Guestbook
---