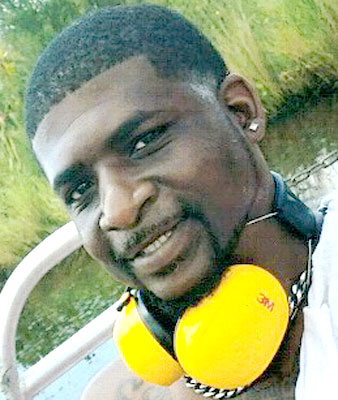 ERIC LEVON ABRON
CLEVELAND - Mr. Eric Levon Abron, 36, formerly of Youngstown, passed away on Feb. 5, 2018, at St. Elizabeth Health Center.
He was born on Sept. 26, 1981, to Richard and Janice Clinkscale Abron, and he was raised by Belinda Abron.
He graduated from Wilson High School and was attending Bryant & Stratton College pursing a bachelor of science degree in business. He loved going on vacations with his family and watching television. Eric will be remembered for his generosity and big heart and will be sadly missed by all who knew him.
He leaves to cherish his memory, his loving wife, Jennifer (Bellish) Abron; his children, Eric Abron Jr. and Aaliyah Abron; his grandfather, Hubert Abron Jr.; his mother-in-law, Yvonne "Sissy" Bellish; and his siblings, Bruce Clinkscale of Youngstown, Tomicia Allen (Louis) of Youngstown, Ricciesha Abron of Youngstown, Arkela Harrison (Jamie) of Youngstown; Shanell Harris of Columbus, Ebonie Waller of Columbus, Eddie Barnes (Misty) of Youngstown, Jamika Phillips of Youngstown, and Damon Miller of Youngstown. He also leaves a host of aunts, uncles, nieces and nephews, cousins and godchildren.
He was preceded in death by his parents, and his brother, Aaron Clinkscale.
A funeral service will be Thursday, Feb. 15, 2018, at 6 p.m. at the Conley & Vanden Berg Funeral Home. Friends may call one hour prior to the time of the service.
In lieu of flowers, monetary donations for his children's education fund can be sent to Conley & Vanden Berg Funeral Home, 75 East Midlothian Blvd., Youngstown, OH 44507.
Arrangements have been entrusted to the directors of the Conley & Vanden Berg Funeral Home.
Guestbook Entries
to the family of Eric Abron
"I am truly sadden by the loss of my friend I will continue to keep the family in prayer, Eric was a good person and will be missed."
» linda on February 14, 2018
My deepest condolences
"Now is Eric's time to rest...may Jehovah God the God of all comfort...comfort his family and friends in this time of need...2 Corinthians 1:3,4"
» KMB on February 28, 2018
Sign the Guestbook
---