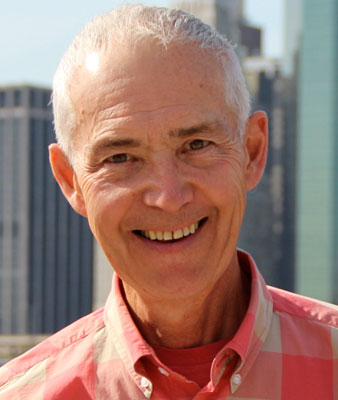 DAVID QUERIN
CANFIELD – Loving husband, father and friend, David Querin died the morning of Feb. 10, 2018.
David was born in 1941 and raised in Youngstown.
He attended South High School, was drafted into the U.S. Army in 1965, serving in Germany. He graduated from Youngstown State University with a degree in Physics, and was employed by Parker Hannifin (formerly Commercial Intertech) as a Quality Assurance Manager for more than 30 years.
Following retirement in 2001, Dave, a true creative spirit, enjoyed life as an artist and master craftsman and was happiest when working in his shop building beautiful pond yachts or traveling with his wife and family. He sailed his vintage model yachts at regattas and other destinations, including Conservatory Pond in New York City's Central Park, where his hand-crafted schooners and sharpies were a marvel for visitors and locals alike.
A fine art enthusiast, Mr. Querin also served as a docent at the Butler Institute of American Art, and was an elder and teacher at the Old North Church in Canfield.
He is survived by his adoring family: wife of 53 years, Susan; brother Jim (Clarie); his daughter, Pam (Deane); and sons Jeff and Steve.
A celebration of life service is planned for April 3 at 6:30 p.m. at Old North Church in Canfield.
Guestbook Entries
Thinking of you
"Dear Jeff and family - We are so sorry to hear about your loss. Thinking of you and your family, and sending healing prayers. "
» Kris Kuhlman and John Schumacher on February 14, 2018
A Man of Dignity
"To Sue and family, We are so sorry to hear of your loss. David was a true gentleman and a man of dignity. He is with the Lord now and enjoying an even fuller life than we can imagine. Grieve but trust God to be by your side through this time. Our prayers are with you at this time. Keith and Carol Ramsay"
» Carol P Ramsay on February 14, 2018
Condolences from North Carolina
"My sympathy to Sue and the family. I worked at Commercial in Human Resources and often interacted with Dave. He was hard working, dependable , and a true gentleman. He could light up a room with his smile."
» Jack Savage on February 14, 2018
Our deepest sympathy
"Our condolences to Sue & the Querin family. As time goes by for you and your family, may your cherished memories of David bring you inner peace and make him seem still very close to you always. May these memories live forever in your heart. South High School Class of 1961"
» Patti Druzisky on February 14, 2018
Deepest sympathies
"Deepest sympathies to your family! May God grant you peace during this time."
» Julie Basinger Cerneka on February 14, 2018
Saddened
"Sue and Family, We are saddened at David's passing but rejoice with you that he is now in the presence of our Lord. May our love and prayers comfort you as you grieve. "
» Jim & Margie Sebastian on February 14, 2018
He was a blessing
"Sue, Pam, Jeff, & Steve: What a blessing Dave was to so many. His gentle spirit just emanated the peace of our Lord. May the Lord be in your midst as you celebrate his life & mourn your loss of him, knowing you will see him again in glory."
» Randy & Jo Anne Brashen on February 14, 2018
Was always a blessing
"To all the family, I am so sorry for the loss of such a blessing of a man. I will always remember his kind and pleasant demeanor. Our prayers go to all of you."
» Juan Diaz on February 14, 2018
Deepest Sympathy
"I remember David from South High. He was always so nice and such a gentle man. I know you will miss him but he will always be in your heart. Please accept my deepest sympathy. Sincerely, Josephine Shotts (Jodie) Fortner Class of '59'"
» Josephine (Jodie) Shotts Fortner on February 14, 2018
To Family
"So Sorry for your loss , Sending My Love to the Family . God bless you all 'May he Cover you all with much love "
» Cindy Green on February 19, 2018
Loss
"I just heard about David's passing; I was out of the country. So sorry for your loss. Dave was a wonderful person; a kind and gentle man. Praying for you, Sue and the family. "
» Marilyn Zishka on February 23, 2018
My deepest condolences
"Now is David's time to rest...may Jehovah God the God of all comfort...comfort his family and friends in this time of need...2 Corinthians 1:3,4"
» KMB on February 26, 2018
God be with you
"So sorry for your loss may God wrap His arms of love and comfort around you and your family. God be with you."
» Sandy Lunsford Harmon on March 7, 2018
Sign the Guestbook
---