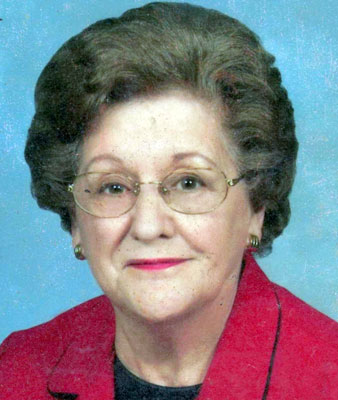 MARY ANN SINKOVICH
STRUTHERS – Funeral services will be held at 10:30 a.m. on Thursday, Feb. 15, 2018, at the Holy Apostles - Sts. Peter and Paul Croatian Catholic Church, for Mary Ann Sinkovich, 90, who passed away Feb. 11, 2018.
Mary Ann was born April 3, 1927, in Youngstown, a daughter of Joseph and Mary (Kumer) Svesko.
She was a 1945 graduate of Woodrow Wilson High School and attended the Ohio School of Beauty. She was a lifelong member of the Holy Apostles - Sts. Peter and Paul Croatian Church, the Daughters of Sts. Peter and Paul and St. George's Lodge No. 66. She loved playing cards with the ladies of her 500 club.
Surviving are her daughters, Susan Benish and Marianne (Keith) Burnside, both of Struthers; two brothers, Joseph (Cass) Svesko of Girard, Pa. and Edward (Ellen) Svesko of Fort Myers, Fla.; a sister, Marge (Serene) Bartoletti of El Paso, Texas; and her grandchildren, Russell Bowser, Jared Bowser, Michelle McCool, Jeremy Benish, Stephen Sinkovich, Chad Sinkovich, Kayla Burnside and Keith Burnside.
She was preceded in death by her parents; her husband, Stephen, whom she married Feb. 19, 1949; a son, Stephen Sinkovich Jr.; and a daughter, Patricia Bowser.
Friends will be received on Thursday, Feb. 15, from 9:30 to 10:30 a.m. at the church.
In lieu of flowers, monetary contributions may be made to Hospice of the Valley, 9803 Sharrott Road, Poland, OH 44514.
Please visit www.vaschak-kirilafh.com to view this obituary or to send condolences to the family.
Guestbook Entries
In Sympathy
"Very sad to hear that your mom had passed. She always treated me like a son the many, many times I stayed over the house as a young kid to terrorize the neighborhood with Stevie! Many memories came rushing back when I was at the viewing at the church this morning, all of them good. I know you all will miss her and you have my deepest sympathies. "
» Ron Smail on February 15, 2018
My deepest condolences
"Now is Mary's time to rest...may Jehovah God the God of all comfort...comfort her family and friends in this time of need...2 Corinthians 1:3,4"
» KMB on February 26, 2018
Sign the Guestbook
---