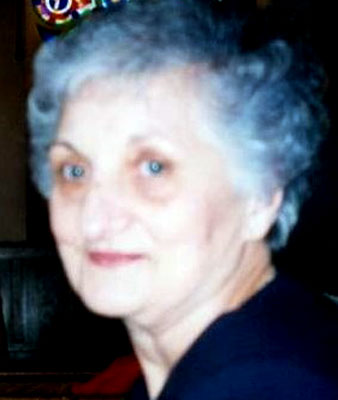 ANNA MARIE CLINE
NILES – Anna Marie Cline, 87, passed away in the arms of her loving husband and surrounded by her family at home at 10:05 a.m. on Monday, Feb. 12, 2018, following an extended illness.
She was born in McDonald, on May 19, 1930, the daughter of Stephen and Sarah (Krepic) Squiric and lived in this community all of her life.
She was a 1948 graduate of Mineral Ridge High School and was a member of Our Lady of Mt. Carmel Church. She was a secretary and bookkeeper at Globe Union Battery Factory in Mineral Ridge, American Welding and RMI Company. She also worked as a part-time bookkeeper for Design Coating.
She enjoyed traveling on vacations, watching football, playing cards with her friends and golfing. She especially cherished the time spent with her grandchildren and great-grandchildren.
Anna is survived by her husband of 64 years, Leroy Cline whom she married on Oct. 10, 1953; daughter Karen (Brian) Smith of Niles; son Jerry (Marty) Cline of Seabrook Island, S.C.; four grandchildren, Jason Cline, Amanda (Ron) Van Horn, Kelli (Richard) Evans, and Kristen Caldwell; five great-grandchildren, Logan, Jake, Luke, Trevor, and Cameron; three brothers; and a sister.
She was preceded in death by her parents and two brothers.
Calling hours will be Wednesday, Feb. 14, 2018, from 5:30 to 7:30 p.m. at the Holeton-Yuhasz Funeral Home.
The funeral will be Thursday, Feb. 15, 2018, at 10 a.m. at the funeral home. The Rev. Douglas Brown will officiate. Burial will be in Kerr Cemetery.
Visit www.holetonyuhasz.com to view this tribute and share condolences.
Guestbook Entries
Condolences
"Leroy, my deepest sympathy with the loss of your wife. Thinking of you and your family at this difficult time."
» Richard Paridon on February 13, 2018
My deepest condolences
"Now is Anna's time to rest...may Jehovah God the God of all comfort...comfort her family and friends in this time of need...2 Corinthians 1:3,4"
» KMB on February 26, 2018
Sign the Guestbook
---