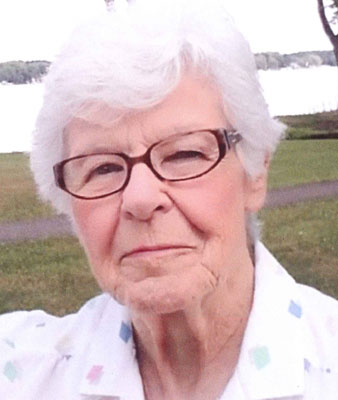 LUELLA 'LOU' M (STACK) BYLER
SALEM - Luella "Lou" M (Stack) Byler, 84, peacefully passed away at her home Saturday morning, Dec. 22, 2018.
 She was born Sept. 4, 1934, in Canfield, the daughter of the late Stephen and Hazel (Davis) Stack.
 A life long area resident, she graduated from Canfield High School in 1953 and attended the nursing program at Mount Union.  Lou was a home maker and had various employment during her life time. She was in charge of the sales at the barn and fruit grader for Huffman Fruit Farm, a baker and candy maker at the former Calico Kitchen, a retail sales clerk at two women's boutiques and a seamstress for a drapery company.  She enjoyed sewing, baking, reading, making puzzles and spending time with her grandchildren and friends. 
She attended the Locust Grove Baptist Church, where she held many offices over the years, most recently as a Deaconess.  Although her favorite position was the Choir Director for many years. 
 She is survived by her son, Gene (Tracey), and three "Angels," grandchildren, Matthew, Laura and Carissa.  She is also survived by a brother, Glenn (Dene) Stack; sister Shirley Tanner; sisters-in-law Mary Ann Stack, Beatrice Stack and  Barbara Stack; and numerous nieces and nephews and many friends.
 Besides her parents, she was preceded in death by her husband, Joseph E., whom she married Jan. 2, 1956; a daughter, Delene L (Byler) Wilkinson; brothers Charles, Herman, Donald, Howard Stack; and sisters Pearl Elizabeth "Betty" McGuire and Delores Possey.
 Family and friends may call from 5 to 8 p.m. on Friday  at the Lane Family Funeral Homes, Canfield Chapel and from 10 to 11 a.m. on Saturday  at the Locust Grove Baptist Church.  Funeral services will be at 11 a.m. at the Locust Grove Baptist Church  with the Rev. Robert Noble officiating. Burial will be at church's cemetery.
Memorial contributions may be made to the American Heart Association or Locust Grove Baptist Church, 12015 Washingtonville Road, Salem, OH 44460.
Guestbook Entries
Just Seen
"Gene, Matthew & Family, I just read about your mother & grandmother today, my condolences for your loss. There are no words that can express the kindness, tenderness and love of a mother. Know that my thoughts and prayers are going out to you during this difficult time. Memories are ties to the blessed assurance that you will be reunited in perfection of a new heaven and earth that is promised. "
» Mark Sitch Family on January 2, 2019
Sign the Guestbook
---