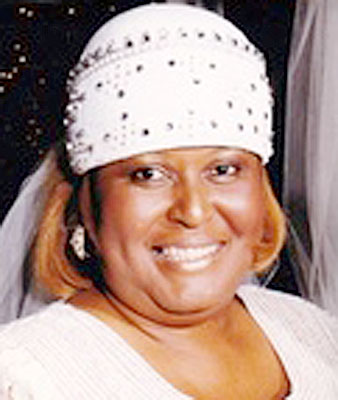 DOROTHY 'DOT' EWELL CARTER
LAS VEGAS – Dorothy "Dot" Ewell Carter,74, formerly of Youngstown, passed away.
Dorothy was born Aug. 23, 1944, in Youngstown, a daughter of, Zeno L. and Mattie Estelle Ewell. She was baptized at an early age by Reverend S. P. Phillips of the Tabernacle Baptist Church in Youngstown, and grew up in the Sharonline area of the city.
Dorothy graduated from North High School, attended Youngstown State University and graduated from Patricia Stevens School of Fashion Merchandising. She also graduated from Los Angeles City College.
Dorothy married Herman Carter in Las Vegas. Before his passing, they both enjoyed traveling and working in Outreach Ministry. As a long standing member of the Second Baptist Church, in Las Vegas, Dorothy was an active member of Sunday School Class No. 2, a faithful supporter of all the Sunday School Teachers, a member of the Las Vegas Chapter of Minister's Wives and Widows, Inc., the Los Angeles Sisterhood Reunion MWMW, Inc., Nevada / California Interstate Missionary Baptist Convention Congress of Christian Education, Delta Sigma Theta Sorority and Female Executives and Entrepreneurs, Incorporated.
She leaves to celebrate her life and legacy, her sister, Margie Ewell of Las Vegas; cousins, Dr. Milton (Dr. Merlyn) Ruffin and Anthony Ruffin all of Columbus; her Second Baptist Church Family of Las Vegas; her long time friend and caregiver, Mary Camp of Las Vegas; longtime friends of Youngstown, including Delores Eddings-Cousin of Carson, Calif., formerly of Youngstown.
She was preceded in death by her parents, husband, and cousin, Patricia Coleman Ruffin.
Visitation will be from 9 to 10 a.m. on Tuesday, Dec. 18, 2018. Funeral Services will follow immediately at 10 a.m. on Tuesday, at the Second Baptist Church, 500 W. Madison Ave., in Las Vegas.
Guestbook Entries
Family
"Margie, you have our most sincere and heart felt condolences and sympathies in the passing of Sister Dorothy, when I was the smallest and youngest kid in the neighborhood the two of you would treat me like a little brother. Love, peace, joy, and blessings to you."
» Pastor Roy and Molly Jordan on February 22, 2019
Deepest Condolences
"Margie So Sorry for Your Loss. We all attended Tabernacle in the 50-60's."
» Colleen Copeland-Brown on December 16, 2018
Tribute a "Distinguished Lady "
"Dearest Family: Our thoughts, hearts and prayers are with you during this time of great loss. I remember Dorothy as the pretty girl with an infectious smile. She will be fondly remembered. The Dr. Fredrick Stevens Family--Allentown, Pennsylvania"
» Dr. Fredrick D. Stevens on December 16, 2018
Sign the Guestbook
---