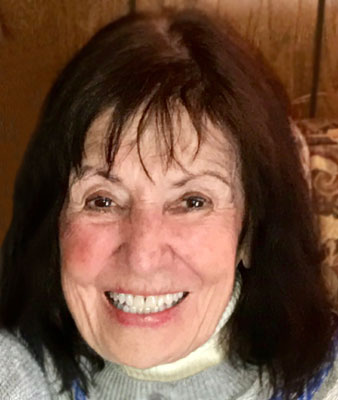 MARY BARONE
YOUNGSTOWN - Mary Barone, 90, passed away early Thursday morning at her home.
Mary was born Sept. 13, 1928, in Youngstown, a daughter of the late Phillip and Rose (Grizzuti) Panno.
Mary was a 1947 graduate of East High School. She worked for Metal Cabides and Sparkle Markets for over 25 years.
Mary's Italian heritage was affectionately shown through her love of elaborate meals and traditional desserts for both family and friends. She was a wonderful wife, a great mom and just adored her grandsons.  A favorite pastime of hers was playing bocce at the Arco Club.
Mary leaves her husband of 66 years, Anthony M. Barone Sr.; her daughter, Mary A. Dripps of Canfield; three grandsons, Joshua, Matthew, and Nathan Dripps; two brothers, Alex (Betty) Panno of Austintown and George (Zoe) Panno of Canfield; and many nieces and nephews.
Mary was also preceded in death by two sons, Anthony M. Barone Jr. and Phillip Barone; son-in-law, Thomas G. Dripps; and a brother, Phillip Panno.
Family and friends may call Saturday from 1 to 2 p.m. at the Higgins-Reardon Funeral Homes, Austintown Chapel.
In lieu of flowers, material tributes may take the form of donations to Hospice of the Valley, 5190 Market Street, Youngstown, OH 44512.
Guestbook Entries
Sadness
"Mrs. Barone did not scare me. I adored her face and being plus her marriage and Mary. Tonight I have found a Catholic Church to be in to pray. My love stayed behind. How very loving. Mrs. Barone, GOD brought Mary back in my life to LOVE HER. You and I have wisdom. I will love Mary.. I pray for MR. Barone my favorite guy! All the way into heaven for us all whom I have named. Love Gina Luisa Graziano"
» Gina Luisa Graziano on December 26, 2018
Old FRiends
"Our deepest sympathy in the loss of Mary,While Phil and Fred shared a room for several weeks at Briarfield we visited with Mary when she visited with Phil.We have fond memories anytime our paths crossed with members of the Panno family. We will pray for Mary and the entire Panno family in our daily Prayers. Love and respect, Fred and Rita Vicarel"
» Fred and Eita Vicarel on December 8, 2018
I will miss you Aunt Mary!
"This world and our family has lost a woman who lived life on her own terms and brought laughter to all who had the privilege of spending time with her. Her zest for life and ability to call it like she saw it was uncanny... She was an honest, strong willed woman who could make you laugh till you cried. WE were truly blessed to have her on this earth for 90 years. She will be missed. A piece of our hearts died with her..."
» Mary Panno on December 7, 2018
Sign the Guestbook
---