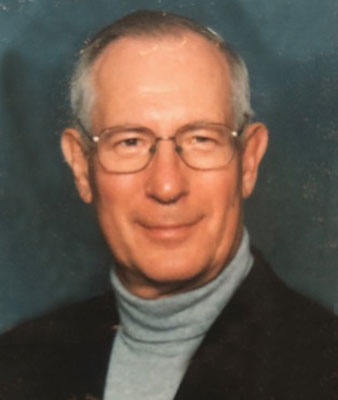 GARRETT L. OLES
POLAND – A prayer service will be held Monday at 9:15 a.m. at the Higgins-Reardon Funeral Homes, Poland Chapel, Rt. 224, followed by a 10 a.m. Mass of Christian Burial at St. Dominic's Catholic Church for Mr. Garrett L. Oles, 83, who died Wednesday morning at St. Mary's Alzheimer's Center in Columbiana.
He was born Jan. 3, 1935, in Youngstown, a son of Paul and Marion (Tokoly) Olsavsky.
Gary was a 1952 graduate of Ursuline High School and a 1965 graduate of Youngstown State University which took him 11 years of night school. He had worked for LTV Steel and subsidiaries for 42 years as a Financial Controller retiring in 1998.
Gary was a member of the church, it's Cursillo and the Infant of Prague Society. He volunteered for the Meals on Wheels, Habitat for Humanity and was the Cub Master for Pack 24.
Gary married Peggy (Marsh) in 1956 at St. Patrick's Church in Youngstown and she died Jan. 1, 2001.
He is survived by his 2nd wife, Joan Lyden McCarthy Oles; his four children, Mark L. (Barbara) Oles of Poland, Mary Jude (Ralph) Naples Jr. of Liberty, Suzanne (Jim) Reese of Cincinnati and Paul (Andrea) Oles of Cleveland: seven grandchildren, Mark A. (Sarah) Oles, Elizabeth (Ken) Smith, Nicholas (Nichole) Oles, Christina (Scott) Denham, Allison and Ralph III Naples and Jacob Reese; two great-grandchildren, Declan and Estella Smith; his two sisters, Alice Reardon of McDonald and Virginia Cooley of Cleveland and his sister-in-law Nancy Olsavsky; his six step-children, Kathleen (Don) Gibson, John V. (Janet) McCarthy, Mark (Polly) McCarthy, Sheila (Dr. John) Fassler, Patrick (Julie) McCarthy and Maureen (Brian) Rable; 17 step-grandchildren; and 11 great-grandchildren.
Gary was preceded in death by his parents; his 1st wife, Peggy; his brother, Donald Olsavsky; his two brothers-in-law, James Reardon and Dick Cooley. Family and friends may call on Sunday from 3 to 6 p.m. at the funeral home.
Memorial contributions may be made in memory of Gary to St. Dominic's Church, 77 E. Lucius Ave., Youngstown, OH 44507; Cardinal Mooney High School, 2545 Erie Street, Youngstown, OH 44507; or Alzheimer's Association for Research, 225 N. Michigan Ave. Floor 17, Chicago, IL 60601.
Visit www.higgins-reardon.com to view this obituary and send condolences.
Guestbook Entries
Missing Gary
"I helped care for Mr. Oles, he was a kind hearted person, and his family was so caring and attentive to him, I hope he's having a wonderful time in Heaven, because he deserved better than what Alzheimer's had to give him. I hope some day we can find a cure. I'll never forget the day I came into see Gary, and bring him into the dining room for his breakfast, and I was feeling I'll, he held my hand, and said you sound like you have a cold, you should go home and rest☺️ God Bless you Gary. "
» Kelly Liggett on December 12, 2018
Sympathy
"Paul, My sympathies to you on the passing away of your father. May God bless you and be with you at this time. Dominic DiPietro"
» Dominic DiPietro on December 11, 2018
Love and Prayers
"May the Peace of the Lord be with you and your family at this trying time. Love, Ruthie"
» Ruth Wylie on December 8, 2018
Sympathy
"To Mark, Mary Jude, Suzanne, and Paul: On behalf of my brother, Danny, and sister, Donna, please accept our sympathy on Gary's passing. Our late mother and father were very fond of Gary and Peggy, as we were. All of you remain a part of our rich memories from growing up on Judson Avenue. It seems like yesterday and not a lifetime ago, when "the neighborhood" was more about relationships than weedless lawns. At that time, among other things, Gary was one of "the old guys" who could not resist joining in the football games on our tree-lined street, "traveling" to our "sandlot" on the grassy field of WKBN, or banging it out in basketball games on our driveway that seemed as large as an NBA court. What more could anyone want from life than such memories! Our thoughts are with you. Billy Diorio "
» William D. Diorio, Ph.D. on December 8, 2018
Sympathy
"Sue I am so sorry for your loss. Many prayers to you and your family for peace andcomfort during this difficult time. Hold on to the great memories that last a lifetime. May you all be comforted knowing he is rejoicing with his loved ones that he has missed as well. "
» Carolyn Reed (Susa) on December 7, 2018
Sympathy
"We pray God will bless, comfort and console all of the Oles Family members."
» Miriam & William Reese on December 7, 2018
Prayers and sympathy
"I extend my sympathy to the Oles family. My late husband, Ed Ross, worked at LTV with Garrett for many years and thought very highly of him. "
» Mary Lou Ross on December 7, 2018
Deepest Sympathy
"Mark and family- I am so sorry to learn of your father's passing. Please accept my condolences. He is now in the arms of our Lord. "
» Mrs. Susan (Colucci) Centorame on December 7, 2018
Good Memories
"May the Oles family sorrow be brief... remembering and cherishing the good times spent as a family gives us strength going forward. Some of my connections to the Oles Family: - was a groomsman in Marks/Barbara's wedding - sister Sue introduced me to my future wife April 15, 1982 at Handels - mother Peggy was the pediatric nurse in the room for the birth of my first child. she also let 6-8 student nurses in the room to get some on the job training so it was one big party going on!!!"
» Jeff & Rhonda Sattler on December 7, 2018
Sympathy
"Mary Jude, Ralph & family. We are very sorry to hear of your loss. You & your family our in our thoughts and prayers."
» Dianne & Howard Esposite on December 7, 2018
Sign the Guestbook
---