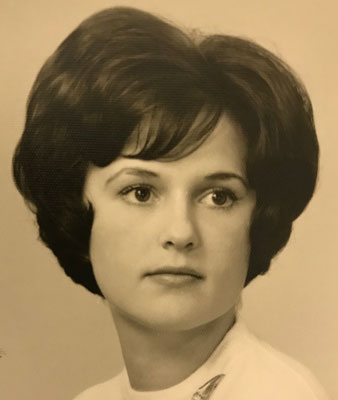 BARBARA LOUISE KOVALOVSKY
AUSTINTOWN - Barbara Louise Kovalovsky, 71, died Thursday, morning Dec. 6, 2018, at Austinwood Manor.
She was born May 7, 1947, in Youngstown, daughter of John L. and Marjorie (Buckley) Rudzenski and had been a lifelong area resident.
Barbara was a 1965 graduate of Boardman High School and had attended Youngstown State University. She earned an Associates degree from Penn-Ohio College in Youngstown. She had been an office manager for Callos Medical in Girard.
Before suffering her stroke in 2002, Barbara loved spending time with her family and friends, and especially with her grandchildren.
She loved cooking, and shopping. Barbara was a "people magnet" and was loved by all.
Besides her mother, of Boardman, she leaves three daughters, Elizabeth A. (Chris) Jordan of North Carolina, Kristine A. Kovalovsky and Kathleen A. Felger both of Boardman; a brother, James (Linda) Rudzenski of Virgina; two nieces, Heather Rudzenski of Florida, and Jamie (Patrick) Richardson of Louisiana; six grandchildren, Justin Texter, Jennifer Greier, Kenneth Greier, Zachary Felger, Amber Felger, and MacKenzie Felger. She also leaves two great-grandchildren, Cameron Riggan and Savannah Midgett.
Barbara was preceded in death by her father.
Services for Barbara will be planned for a later date.
Arrangements are being handled by the Davis-Becker Funeral Home in Boardman.
Visit www.beckerobits.com to send condolences.
Guestbook Entries
Condolences
"So sorry on the loss of your mom, she was such a sweet and kind person. No more suffering or pain for her, but hard for the family to say goodbye. You are in our thoughts & prayers."
» Terry & Nancy Rusu on December 9, 2018
Dear mom
"Well Mom..how do I say bye to the best Mom..My beautiful Mom..your in heaven now Mom..no more pain...you lived your life life always in great spirits..never let your girls see you sad...Mom your home ..dance..walk ..run.. your free...I love you so much Mom.. Sleep well "
» Kathy on December 8, 2018
Dear mom
"Well Mom..how do I say bye to the best Mom..My beautiful Mom..your in heaven now Mom..no more pain...you lived your life life always in great spirits..never let your girls see you sad...Mom your home ..dance..walk ..run.. your free...I love you so much Mom.. Sleep well "
» Kathy on December 8, 2018
Dear Mom
"Thank you for being my Mom and my friend. I will never forget what a wonderful Mother and Grandma you were. I love you with all my heart and soul. I know you are free now and whole again. Goodnight Mom, sleep good, I love you! Krissy"
» KRISSY on December 7, 2018
Sign the Guestbook
---