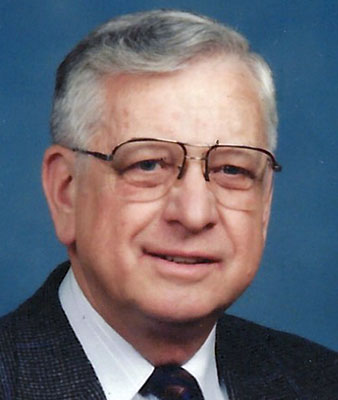 CLARENCE EMERSON MANSFIELD
KENTUCKY – Clarence Emerson Mansfield, 87, passed away Dec. 2, 2018.
He was born on Dec. 14, 1930, to Elsworth and Cora (Shinkle) Mansfield.
He was preceded in death by his parents; a sister, Pauline (Mansfield) Hurst; son Norman; and grandsons, J.D. Mansfield and Robert "Kyle" Mansfield. 
He was ordained into ministry on Aug. 29, 1951, and graduated from Kentucky Christian University in 1952. He ministered for nine years in Kentucky and for five years in Illinois before beginning his ministry at the First Christian Church in Columbiana, where he served as senior pastor for 32 years.
He was chairman of the Board of Trustees and later vice-president of HASTEN, International, a medical mission with partners in Cuba, Mexico, Dominican Republic, India, and Zimbabwe. He was also a Kentucky Colonel.
He is survived by his wife of 68 years, Priscilla (Pat) Mansfield; son Larry (Denise) Mansfield of Newark; daughter Kathy Durham of Austintown; daughter-in-law Jean Mansfield of Delaware, Ohio; son Steve (Lisa) Mansfield of Whitehall; and son Vince (Diane) Mansfield of Simpsonville, Ky; 14 grandchildren; and 17 great-grandchildren.
Funeral services will be held at 11 a.m. on Saturday, Dec. 8, at the First Christian Church in Columbiana, with burial to follow at Firestone Cemetery. Friends may pay their respects on Friday, Dec. 7, from 4 to 8 p.m. at the Seederly-Mong and Beck Funeral Home and on Saturday, Dec. 8, at the church from 10 a.m. until the time of the service.
Expressions of sympathy may be made to HASTEN, International, 2360 S.E. 7th PL, Homestead, FL 33033.
Guestbook Entries
A great loss
"This wonderful man made everyone feel special; he called us his Beloved. Please know you are in our thoughts and prayers and that he is with you always from his new home with his Father. We have always loved him and his family"
» Tony and Gerry Pirone on December 8, 2018
Condolences
"Sending our Sincerest Condolences for your loss. We are praying that God gives you His overwhelming peace and comfort."
» Deborah Smith and Family on December 7, 2018
Sympathy
"Rev. Mansfield and his family always displayed kindness and friendship to everyone. I was saddened to read of his passing. Please accept my condolences. "
» John Savage on December 6, 2018
sympathy
"My deepest sympathy and prayers on your loss...May God comfort you in the days ahead..."
» Bill M on December 6, 2018
Sign the Guestbook
---