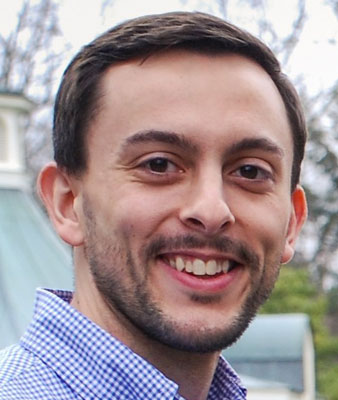 GEORGE WILLIAM KIRALY JR
POINT RICHMOND, CALIF. – George William Kiraly Jr., 30, died unexpectedly on Saturday, July 28, 2018, at his home in Point Richmond.
George was born March 29, 1988, in Youngstown, to George and Jeanne (Stein) Kiraly.
George was a 2006 graduate of McDonald High School. He graduated with the last class of Mount Union College in 2010 with a Bachelor of Arts in Media Studies. George was a brother of the Ohio Sigma Chapter of Sigma Alpha Epsilon fraternity and a Preview and Orientation Guide at Mount.
Inspired by his love of Disney, George enrolled in the Disney College Program in Orlando. There he met the love of his life, Caroline "Carey" Langbein. He followed her back to northern California and worked closely with his father-in-law at East Bay Paint Center, rising to the role of store manager. George and Carey welcomed daughter, Eloise "Ellie" on Aug. 6, 2016, and celebrated five years of marriage on July 20, 2018.
George treated everyone he met with compassion and respect and maintained close friendships from all seasons of his life. He loved spending time with his family, running, telling "dad jokes," as well as anything Disney, fantasy football, craft beer and the Golden State Warriors.
George will be forever remembered by his wife and best friend, Carey and their precious daughter, Ellie; as well as his parents, George and Jeanne Kiraly of McDonald; sisters Kelly (John) Frammartino of Canfield, and Katy of McDonald; in-laws Bob and Maria Langbein of El Cerrito, Calif.; and sister-in-law Holly of San Francisco.
He also leaves behind his paternal grandparents, George and Dorothy Kiraly of Youngstown, and aunts, uncles, cousins, extended family and many dear friends.
George was preceded in death by his maternal grandparents, Jack and Jean Stein of McDonald.
George was an organ donor and able to help several people. His family is so proud of his decision to give the gift of life to others.
In lieu of flowers, please check that organ donor box, complete a random act of kindness or make a donation to your favorite charity.
A Mass will be held on Saturday, Sept. 1, 2018, at 10:30 a.m. at Our Lady of Perpetual Help Church, 618 Ohio Ave. in McDonald, followed by a celebration of George's life from noon to 3 p.m. at The Village Banquet Center, 1057 Illinois Ave. in McDonald. All are welcome to stop by and share memories with George's family and friends.
Guestbook Entries
Dorothy and family,
"I was so sad to learn of the loss of your grandson. Although I never had the opportunity to meet him, I know if he was anything like his grandmother, he was a warm wonderful individual.What a beautiful smile! I can't begin to imagine your pain and sorrow and I will keep all of you in my thoughts and my prayers."
» Gerry Pirone on August 29, 2018
Sign the Guestbook
---