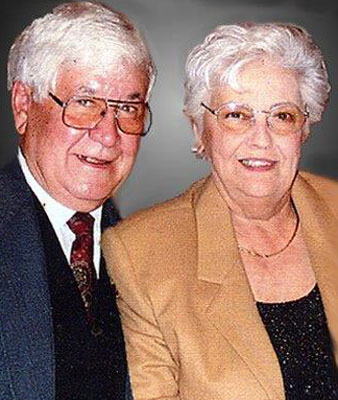 ALBERT A. 'AL' CHANCE SR
"Together Again"
YOUNGSTOWN - Albert A. Chance Sr., 88, a lifelong resident of the city's west side, passed away Thursday morning, Aug. 23, 2018, in Peace with his Maker, at Hampton Woods in Poland following a long, joyful, and fruitful life.
Al was born April 4, 1930, in Youngstown, the ninth of 12 children born to the late Carlos and Angeline Alverenzo Chance.
He was a proud 1949 graduate of Chaney High School, and he also attended Youngstown College.
In 1955, Al enlisted in the U.S. Coast Guard. He was assigned as a Seaman aboard the USCGC Mackinaw, an icebreaker on the Great Lakes; he manned lifeboat stations in Ludington and Pentwater, Michigan; and he was a Lighthouse Keeper in Ashtabula. Al was honorably discharged from the Coast Guard in 1957 as a Yeoman 2nd Class.
Al was a 34-year employee of Commercial Intertech (now Parker Hannifin). He retired in 1995 from the Computer Department, and the Human Resources and Safety Departments. The company was like a second family to Al, and a home away from home. Prior to Commercial Intertech, Al worked for 12 years at Republic Steel.
Active in the community, Al served for six years (1985 -1991) as the City of Youngstown's 4th Ward Councilman, and he was very proud of his service to the community. Mr. Chance was a member of, and served on the Board of Directors of the West Side Merchants & Civic Association since 1992. He was also a Neighborhood Watch Member of Chaney Circle, the Garden District, and Rocky Ridge. Al was a very active participant as an Alumni of Chaney's Class of 1949, which met monthly over the past 60-plus years.
Al's wife, Cecelia A. Tomaskovic Chance, his Chaney High School "sweetheart", whom he married Oct. 25, 1952, in Holy Name of Jesus Church, passed away April 16, 2010. After his marriage, Al, a proud Italian, became a dedicated parishioner of Holy Name of Jesus Church (one of Slovak Nationality), and he served the parish as a Leader of Prayer and as a Eucharistic Minister.
He leaves five children, Albert A. Jr. (Rose Barak) Chance of Youngstown, Patricia (Brad) Amrich of Youngstown, Robert (Doreen Popovich) Chance of Poland, Celeste Chance of Youngstown, and Pamela (Albert) Ariza of Boardman; 10 grandchildren, Nicole (Arlo) Brookhart, Jenny Lemke, Kristen (Nick) Habuda, Albert "A.J." Chance, Lori (Scott) Mickholtzick, Julie Koma, Brad Amrich Jr., U.S. Air Force Major Robert (Maj. Corey) Chance Jr., Melissa (James) Anderson, and Allison Ariza; great-grandchildren, Olivia, Chance, Roman, Nicholas, Emma, Ella, Eva, Lauren, Aubrey, Kylie, Carter, Riley, Owen, and Lucas; and many, many nieces and nephews.
Al will be remembered as a very proud husband, father, grandfather, and a member of the "Chance Family of 12." Always considered blessed with "richness of family and friends," Al never hesitated to speak to anyone, and he made acquaintances with all those he came in contact with. He enjoyed people, and he listened to what anyone had to say no matter what the circumstances or occasion. Al appreciated life, and the goodness and challenges that he encountered in every day living, and he believed in the saying, "live and let live."
Besides his wife, five brothers, Joseph, Thomas, James, Carl, and Philip Chance, and six sisters, Phyllis Romeo, Rose Chance, Anita Greico, Mary Jane Bielik, Norman Jean Mahon, and Loretta Bucher, are deceased.
Family and friends may call from 4 to 7 p.m. Sunday, Aug. 26, at Kinnick Funeral Home, 477 N. Meridian Road, Youngstown.
Funeral services will begin at 9:15 a.m., Monday, Aug. 27, at the funeral home and continue at 10 a.m. with a Mass of Christian Burial to be celebrated at Our Lady of Sorrows Parish, Holy Name of Jesus Church, 613 N. Lakeview Avenue, Youngstown.
Committal services with military honors will follow at Calvary Cemetery in Youngstown, where Al will laid to rest with his beloved, Cecelia.
A very special thanks from the Chance family to the staff of Hampton Woods, and to the staff with Crossroads Hospice, for the kindness shown and care given to Al and his family during his recent illness.
Please visit www.kinnickfuneralhome.com to view and share this obituary, and to send condolences online to Al's family.
Guestbook Entries
Condolences
"Rob and family members, our sympathy on the loss of your dad. Heck of a poker player. "
» Steve Markovic on August 26, 2018
So sorry
"Sending sincere condolences from the Paterson Family."
» Marie Paterson Hoffman on August 25, 2018
My deepest condolences
"Now is Albert's time to rest...may Jehovah God the God of all comfort...comfort his family and friends in this time of need...2 Corinthians 1:3,4"
» KMB on September 5, 2018
Sign the Guestbook
---