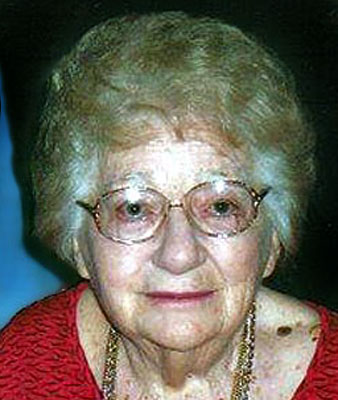 MARY OSIPCHAK CHICK
CANFIELD - Mary Osipchak Chick, formerly of Youngstown's west side, passed away peacefully late Sunday morning, Aug. 19, 2018, at Windsor House in Canfield with her family by her side, just two days after her 96th birthday.
Mary was born Aug. 17, 1922, in Center Township, Pa., a daughter of the late John and Ann Sherbak Osipchak, and came to this area with her family as a child.
She attended Chaney High School and was a homemaker who also worked for Packard Electric, both in Warren and Austintown. She retired from the company at the age of 68 after 35 years of service.
Mary was a member of St. Michael Orthodox Church in Youngstown, and was very proud of her Carpatho-Russian heritage. A great cook and baker, she passed on her family traditions and values to her children and grandchildren, especially those involving Easter and Christmas, and she gave out her recipes for her delicious kolachi and Easter bread to anyone who asked.
Mary leaves two daughters and a son, Colleen (Dominic) Raco of Canfield, with whom she made her home, Cheryl Tubic of Boardman, and Anthony Chick of Palm Harbor, Fla.; seven grandchildren, Natalie (T.J.) Corcoran, Dominic Raco Jr., Collin Tubic, Amanda Chick, Audrey Chick, Aaron Chick, and Joseph Becker; 11 great-grandchildren, Aidan Corcoran, Ronan Corcoran, Caitlin Corcoran, Keelan Corcoran, Quinn Corcoran, Meghan Corcoran, Jacob Homel, Nathan Becker, Brody Becker, Griffin Becker, and Elliot Becker; a sister, Irene Kiraly of Youngstown; a brother, Edward (Nancy) Osipchak of Canfield; a sister-in-law, Donna Osipchak of Boardman; and many nieces and nephews.
Mary will be truly missed by all who knew and loved her.
Her husband, Anthony Chick; sisters, Ann Beaumier, Helen Bura, and Elizabeth Schulze; and brothers, Raymond and John Osipchak, are deceased.
Family and friends may call from 5 to 7 p.m., Wednesday, Aug. 22, at Kinnick Funeral Home, 477 N. Meridian Road.
Funeral services will begin at 10:15 a.m., Thursday, at the funeral home, and will continue at 11 a.m. at St. Michael Orthodox Church on Steel Street in Youngstown.
Committal services will follow at Green Haven Memorial Gardens.
Mary's family thanks the staff and nurses with Windsor House and with Harbor Light Hospice, for the kindness shown and care given to Mary and her family during her illness.
Please visit www.kinnickfuneralhome.com to view this obituary and to send condolences online to Mary's family
Guestbook Entries
Deepest condolences
"My heart is saddened to hear this news ! Mrs. Chick was a wonderful woman and a great neighbor ! I truly enjoyed spending a lot of time talking with her & doing things for her 😍 My condolences to the entire Family ! God Bless - Love to all Brenda L. Adair "
» Brenda Adair on August 21, 2018
Aunt Mary
"We are so sorry for the loss of Aunt Mary. You are all in our thoughts and prayers at this time of sorrow."
» The Beaumier Family on August 21, 2018
Deepest Sympathy
"You are in my thoughts and prayers as you grieve the loss of your mother. May she rest in peace. "
» Mary Schwartz on August 21, 2018
Our deepest sympathy
"Our family is deeply saddened by the passing of your mom. We will always remember her fondly and feel blessed that we had the pleasure of knowing her. Vichnaya Pamyat. Love, Joey, Michele, Nick, and Andreanna "
» Michele Tocicki on August 23, 2018
My deep sympathy
"Coleen, Cheryl and family, you our in my prayers for comfort during this sad time of loss. Knowing you both, I imagine that your mom must have been a special person. "
» Peter Magada on August 23, 2018
My condolence
"Please accept my sincere sympathy,Cheryl,Colleen,Anthony and your families..I remember mom as a sweet and fascinating lady.. I loved hearing her speak. I lost my mom in 2010, Losing a mom is really hard.God Bless and 🙏 being sent your way❤️❤️❤️"
» Ann Vass on August 26, 2018
My deepest condolences
"Now is Mary's time to rest...may Jehovah God the God of all comfort...comfort her family and friends in this time of need...2 Corinthians 1:3,4"
» KMB on September 3, 2018
Sign the Guestbook
---