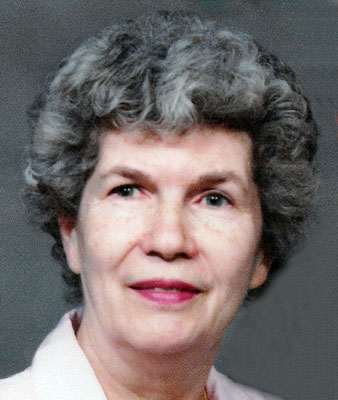 DOROTHY M. STRONEY
YOUNGSTOWN - Funeral services will be held on Thursday, Aug. 16, 2018, at 10 a.m. at St. Christine's Church for Dorothy M. Stroney, 92, who passed away on Aug. 12, 2018.
Dorothy was born March 1, 1926, in Youngstown, a daughter of Clarence Skidmore and Catherine Mattes Skidmore.
She worked as a long distance telephone operator for Ohio Bell and was a member of the Telephone Pioneers.
She was a graduate of Chaney High School and a member of St. Christine's Church, where she belonged to the Infant Jesus of Prague Guild and the festival committee. She was a play ground mother at the school and on the committee to raise money for school projects. Dorothy also served as Den Mother for St. Christine's Cub Pack 22, was on the committee of sewing teddy bears for children and made aprons for the Restoration of the Statue of Liberty and was a quilter and sewer. Her favorite past time was shopping and weekly auctions.
Dorothy traveled throughout the United States and Canada, Great Britain, Ireland, Spain and the Middle East. She enjoyed the yearly family vacations at the Outer Banks, N.C.
Surviving are her husband, John L. Stroney, whom she married April 6, 1953, at St. Brendan's Church; three sons, Leonard (Marilou)) Stroney of Boardman, Matthew (Ann Marie) Stroney of Ellsworth and Bruce (Deanna) Stroney of Boardman; two grandchildren, Steven (Lisa) Stroney of Canfield and Sarah Stroney (Stephen Novotny) of Philadephia; two great-grandchildren, Luke and Alice Stroney of Canfield; and numerous cousins, nieces and nephews.
She was preceded in death by her parents; her brother, Clarence "Skid" Skidmore; and stepbrother, John Bagin.
Friends will be received at the Vaschak-Kirila Funeral Home Inc., in Youngstown on Wednesday, Aug. 15, 2018, from 5 to 7 p.m. and again at the funeral home at 9:30 a.m. on Thursday, Aug. 16.
The family requests contributions be made to St. Christine's Church or Crossroads Hospice.
Please visit www.vaschak-kirilafh.com to view this obituary or to send condolences to the family.
Guestbook Entries
Prayers
"We're so sorry for your loss. Praying for your family."
» Rick and Diane Monaco from McKinney,Tx on August 14, 2018
Prayers
"We're so sorry for your loss. Praying for your family."
» Rick and Diane Monaco from McKinney,Tx on August 14, 2018
Neighbor
"John and family, I am so saddened to hear of your loss of a wife, mother, grandmother and great grandmother. I remember many a day when our children were young of talking outside with all the neighbors. You have my prayers for your family during this difficult time. May God bless you all."
» Margaret Micco on August 14, 2018
Condolences and Prayers
"Dear Stroney Family, We offer our prayers to you in your time of grief. May the Holy Spirit help you through the coming days, months, years as you fondly remember the many birthdays, holidays, etc. that you shared. Don and Kathy Rotar"
» Don/Kathy Rotar on August 14, 2018
Our neighbor
"Was sad to hear of the passing of " Mrs. Stroney". Many great memories growing up across the street! My deepest condolences. "
» Bill Terlecky on August 14, 2018
Dear Leonard , Marilou and families
"Very sorry for your loss and praying for your beautiful family. "
» Teresa Bartoszek deskin on August 16, 2018
Sign the Guestbook
---