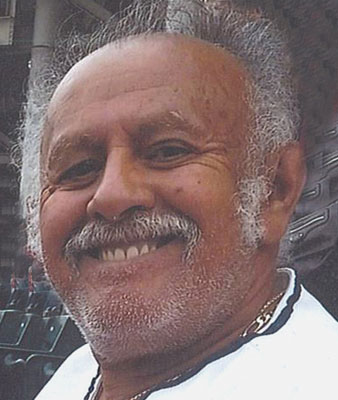 VICTOR GONZALEZ SR
YOUNGSTOWN - There will be funeral services at 9 a.m. on Monday, Aug. 13, 2018, at the Rossi Brothers & Lellio Funeral Home in Boardman, followed by a 10 a.m. Mass of Christian Burial at Christ the Good Shepherd Parish at Sta. Rosa de Lima Church in Campbell for Victor Gonzalez Sr. 79, who passed away peacefully on Wednesday, Aug. 8, 2018, surrounded by his loving family.
Victor was born April 22, 1939, in Yabucoa, Puerto Rico, the son of Juan and Raimunda (Morales) Gonzalez.
He retired from General Motors Lordstown after 34 years of service and was a member of UAW 1714. Victor was a member of Christ the Good Shepherd Parish at Sta. Rosa de Lima Church, where he belonged to the choir, prayer group, and Cursillo. He was also a member of "Jovenes del Pasado" at OCCHA.
Victor enjoyed spending time with his family and was a devoted father, grandfather, and great-grandfather. In his spare time, he enjoyed playing and listening to Latin music and was an avid Cleveland Indians fan.
Victor will always be remembered lovingly by his long-time companion, Judith Tirado, of Youngstown; four children, Marisol Gonzalez-Bowers of Youngstown, Ricardo (Millie) Gonzalez Sr. of Youngstown, Victor M. Gonzalez Jr. of Youngstown, and Monica Gonzalez (life partner, Jayme Blasiman) of Columbus; 10 grandchildren, Yadira L. Colyar of Miami, William L. Bowers Jr. of Youngstown, Angelica M. Gonzalez, Ricardo Gonzalez Jr., Jazzmin Maldonado and EJ Maldonado all of Youngstown, Julie Ortiz of Tampa, Alicia Carr of Phoenix, and Jadyn and Jordyn Blasiman of Columbus; four great-grandchildren, Qamar L. Thompson and Lenox Kruger both of Miami, Amani (Angelica) Arocho of Akron, and Selena Gonzalez of Lorain; six siblings, Juan Angel Gonzalez of Lorain, Julia Gonzalez of Lorain, Luz (William) Mills of Bronx, N.Y., Felipe (Mary) Gonzalez of Youngstown, Nilda Gonzalez of Lorain, and Angel Gonzalez of Ponce, Puerto Rico; and many beloved nieces and nephews.
Besides his parents he was preceded in death by three siblings, Neida, William, and Osvaldo Gonzalez; and son-in-law, William L. Bowers Sr.
Friends may call from 4 to 6 p.m. on Sunday, Aug. 12, 2018, at the Rossi Brothers & Lellio Funeral Home, 4442 South Ave. in Boardman, followed by a 6 p.m. prayer service.
Family and friends may visit the Book of Memories at www.rossifunerals.com to view this tribute and send condolences to Victor's family.
Guestbook Entries
So very sorry for your loss,He will be missed.
"From my family,My mother Gladys,my sister's and I and my brother, Our deepest condolences to you and your family. Felipe and Maria, May God bless you guys."
» Ivy Vera on August 11, 2018
Sorry
" So sorry for your loss, to Phil and Victor's family."
» Lew and Lynne Hartsough on August 10, 2018
His smile
"Our deepest condolences to all of his family , will miss you playing in the church coir it will never be the same , and of course your jokes and your mischievous smile may you continue playing in heaven lv you "
» Mr. Mrs. Luis Garcia on August 10, 2018
Victor you will be missed.
"Our deepest condolences to the entire Gonzalez family. We have known each other for many years. Mari is like a little sister. Our prayers are with you and may God give you comfort in this difficult time. Many blessings and live to you all. 👼🙏❤️ "
» Nellie and Rick Gonzalez on August 10, 2018
Uaw/gm local 1112
"My deepest sympathy Marisol and to your family 🙏"
» Carla clay on August 10, 2018
Sympathy
"To the family of Victor: You have my deepest sympathy. I knew Victor from Jovenes del Pasado, he was a gentle kind man. You have my deepest sympathy. He will be missed."
» Betty Evanoski on August 10, 2018
Sign the Guestbook
---