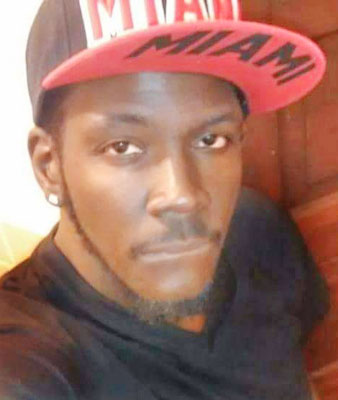 JERMAINE DONLOW JR
YOUNGSTOWN – Jermaine Donlow Jr., 26, of 112 Illinois Ave., departed this life Wednesday, Aug. 1, 2018, at 1:40 a.m. at St. Elizabeth Health Center.
He was born Nov. 23, 1991, in Youngstown, the son of Jermaine Donlow Sr. and Mellissa Brooks, residing in the area for four years, coming from Hamilton Township, N.J.
Mr. Donlow was a member of St. Johns United Holiness Church of New Castle, Pa., where he formerly sang in the Youth Choir and enjoyed singing and dancing.
He was a 2010 graduate of Hamilton High School West.
He leaves to mourn his mother, Mrs. Mellissa Brooks Blidi and stepfather Joseph Blidi of Youngstown; father Jermaine Donlow Sr. of Austintown; one brother, Anthony Jermaine Tubbs of Youngstown; grandmother Ms. Mary Bellamy Brooks of Youngstown; and a host of relatives and friends.
He was preceded in death by two brothers, Dominic Brooks Donlow and Shaqueille Lamont Donlow.
Funeral services will be held Saturday, Aug. 11, 2018, at 11 a.m. at the Sterling-McCullough Williams Youngstown Chapel. Calling hours will be held one hour prior to service from 10 to 11 a.m.
Arrangements of comfort were handled by the Sterling-McCullough Williams Youngstown Funeral Home.
Guestbook Entries
Sympathy
"My condolences to the family"
» Stephen Leflore on August 10, 2018
To the family
"We wish to wish you the Best and our DEEPEST condolences my the Lord bless you and the family. "
» The BETHEL family on August 10, 2018
My Deepest Sympathy
"Jermaine, I'm so sorry for your loss. I will keep you and your family in my prayers. "
» Debbie DiFrancesco on August 11, 2018
Love You
"My sister my heart is breaking for your loss and I pray that you will find peace and comfort. I wish with all my heart and soul that Brandon and I could be there are small family is broken without Jermaine .❤ Love You"
» Stacy Brooks (Aunt) & Brandon (Nephew) on August 10, 2018
Sympathy and memories
"My deepest sympathy love and condolences to you and your family im so sorry this happened to you my heart goes out to and your loved ones ive thought about you everyday and im deeply sadened i still love you all i have is your pictures and pictures we took together and memeories we shared i will always remeber your laugh and smile i still love you I'll never forget you ... Love always Brey"
» Breyona Grier on August 11, 2018
Loved one
"RIH Jermaine Jr. You are gone home to be with the Lord, we will miss you."
» Eugene Tensley on August 15, 2018
Prayers for family and friends at this time of loss
"These words are for family and friends that all showed their love for Jermaine Donlow Jr...26 years young. "Pray that God will move in on them with illumination and insight so they can fully grasp and understand that even thought the death of Jermaine Jr is a painful experience, that Jermaine Jr is now a NEW BEGINNING FOR THEM." "Jermaine Jr is now in the most perfect place imaginable and they will be reunited with him in just a very short period of time. This life on earth is just for a very brief moment in the eternal scheme of things - but the life to come, where they are at now, will be forever." "Remember what the Holy Spirit Himself has spoken - Jermaine Jr is no longer "dead in your past" - Jermaine Jr is now "fully alive in your future" - which is HEAVEN." "
» Brian Kimble on August 15, 2018
My Deepest Condolences
"I've thought about you everyday Jermaine, I was so sadden to hear of your passing, To My Cousin Jermaine Sr & Mellissa My thoughts and prayers are with you and your Family, Love Tammy Russell, Warren Ohio"
» Tamara Russell on August 15, 2018
My deepest condolences
"Now is Jermaine Jr's time to rest...may Jehovah God the God of all comfort...comfort his family and friends in this time of need...2 Corinthians 1:3,4"
» KMB on August 22, 2018
Sign the Guestbook
---