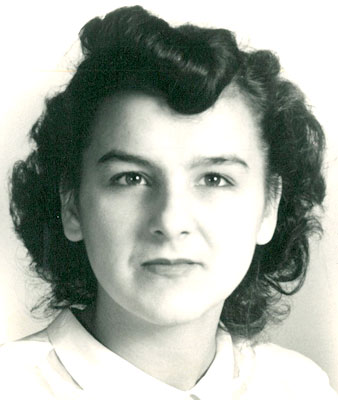 GENEVIEVE 'JEAN' EYSTER
ASHTABULA – Genevieve "Jean" Eyster, 89, passed away on Aug. 7, 2018, in Ashtabula.
A lifelong Ashtabula resident, Genevieve was born on Feb. 7, 1929, to Tony and Adeline (Laurello) DeCamillo.
She was preceded in death by her husband, of over 25 years, George Eyster in 1988; her sister, Ann Altomare; and her brother, Anthony DeCamillo.
Genevieve is survived by her sons, Bradley Eyster of Ashtabula, and David (Dianne) Eyster of Youngstown; her brothers, Nick (Barbara), Armand, and Dennis (Shelby) DeCamillo, all of Ashtabula; and her grandchildren, Lindsay Eyster of Columbus, and Jeremy Eyster of Youngstown.
Jean loved music, dancing to polkas, and the Lawrence Welk Show. "Aunt Jen was kind-hearted to everyone especially her family and friends."
Per Genevieve's wishes, no services will be held.
Contributions may be made to the donor's favorite charities.
Cards and condolences may be sent to Ducro Funeral Services and Crematory, 4524 Elm Ave., Ashtabula, OH 44004, whom assisted the family.
Visit www.ducro.com to sign the online guestbook.
Guestbook Entries
Sympathy
"Dear Dave,Diane, Lyndsay and Jeremy, Kip and I are very sorry for your loss. God's peace and comfort to you. Sending our love."
» Julie and Kip Reynolds on August 11, 2018
Sympathy
"Dave, Diane, Lindsay, and Jeremy, Our deepest sympathy to all. May your Mother Rest In Peace. "
» Mark & Melinda Rumbaugh on August 10, 2018
My deepest condolences
"Now is Genevieve's time to rest...may Jehovah God the God of all comfort...comfort her family and friends in this time of need...2 Corinthians 1:3,4"
» KMB on August 22, 2018
Sign the Guestbook
---