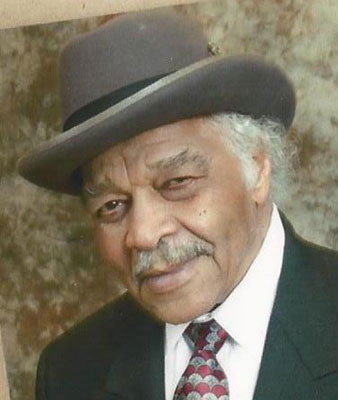 CAMERON HERBERT STEWART
YOUNGSTOWN - A funeral service in honor of Mr. Cameron Herbert Stewart will be held Saturday at 10 a.m. at Jaylex Event Center in Youngstown. Mr. Stewart departed this life July 29, 2018, at Park Vista Nursing Home.
Mr. Stewart was born April 9, 1918, in Parkersburg, W.Va. He was the son of Herbert and Martha McGill Stewart moving to Youngstown as an infant.
He attended Chaney High School. In his early years, he was an amateur boxing Golden Glove Champion. Cameron worked for several blast furnace construction companies, which enabled him to travel all over the United States. The last of those companies was the Songer Constructon company owned by his very best friend, Mr. Paul Songer. Cameron retired as superintendent of that company.
Cameron and the love of his life, the former Hallie Johnson, grew up next door to each other from the time they were eight and nine years old. They were married on Aug. 28, 1939, and enjoyed nearly 70 years of a beautiful marriage until God called her home on April 25, 2009.
Cameron was a long time dedicated member of the Victory Lutheran Church, having served as past president of the congregation, as well as elder emeritus. He, along with other members of Victory, merged with St. Mark's Lutheran congregation, which has now become St. Mark's Victory Lutheran Church. Cameron and Hallie attended the Dearborn School of Catering in Dearbon, Mich. Important points of interest in Cameron's life was watching PBS and CNN, keeping up with all current events. He loved to discuss bible principles and what his Lord and savior meant to him.
He leaves to cherish his memory, his daughter, Marthella (Ronald) Allen; his sons, Jerald (Earlene) Stewart, all of Youngstown, Dane Stewart of Spring, Texas; his daughters-in-law, Shelia and Rosalind; 16 grandchildren; 27 great-grandchildren; five great-great-grandchildren; his niece, Robin Stewart Hunter; and a host of other relatives and dear friends, including his beautiful church family.
Cameron was preceded in death by his parents; his wife, Hallie Johnson Stewart; his siblings, Robert Stewart, Naomi Stewart Johnson and Leonard Stewart; his sons, Cameron Lamont and James Stewart; his daughters-in-law, Sylvia and Rita Stewart; his granddaughter, Felicia Stewart.
Friends may call Friday from 3 to 5 p.m. at the J.E. Washington Funeral Home. The family will receive friends Saturday from 9 to 10 a.m. at Jaylex Event Center. Interment will be in Tod Homestead Cemetery.
Ministry of comfort and transitional care entrusted to The J.E. Washington Funeral Services Inc.
Guestbook Entries
Sympathy
"My Deepest Sympathy"
» Inell Allen on August 7, 2018
Prayers for the family
"Sorry for your loss. 95 great years"
» Jon on August 8, 2018
My " Church" Dad
"To MY other family , "The Stewarts " please except my condolences and deepest sympathy on behalf of my family The Taylors. ! I have know and grew up with you all my whole 50 years , i am so sorry to hear about Pop Mr. Stewart , He definitely was a very special person to me and I will never forget him or the memories of him and Ma Hallie Mrs .Stewart . I love you all and i am praying for you family !! May God continue to bless and keep you all !! Love. Sheila Taylor and Family "
» Sheila Taylor on August 7, 2018
Condolences
" Please accept my sincere condolences.... I am very sorry for your loss. What love and character do I see in this gentleman's face. May you all rejoice in "The Legacy" of one so great and how you can all be do proud in the way that he shot "his arrows". Peace and love to you all....(Marthella and Ronald Allen you are loved)"
» Janice Cook on August 7, 2018
My Family
"Me and Jimmy is so sorry to hear the sad news of our cousin's transition,but rejoicing in that we know absent from the body, present with the Lord. You have our deepest condolences but my memory of him is when I last saw him at his 100th Birthday Celebration, glad I had a conversation with him and got a chance to take pictures with him. That'll be one of my fondest memories. Lifting you and the rest of the family up in prayer, Love your Cousins Jimmy and Cookie"
» Jimmy & Cookie Dykes on August 7, 2018
Missing the Routine
"Aunt Marthella, I'm truly sorry for your loss. We understand this journey on earth, but know your dad will always be in your heart. You have your wonderful memories that will never leave you. The hardest part of your day is missing the routine you had with him. Just know your dad is watching over you from a place called heaven. I love you, and I wish I could be there with you. Love you Arnita "
» Arnita Berry on August 8, 2018
My Condolences
"To My Classmate Cameron, my childhood friends Tracy and Angie, and to you Ms. Marthella; you all have our sincerest condolences on the passing of your Father, Brother, Uncle. We will be praying for you all. "
» Rhonda L. Johnson (Curry) on August 10, 2018
My Condolences
"To My Classmate Cameron, my childhood friends Tracy and Angie, and to you Ms. Marthella; you all have our sincerest condolences on the passing of your Father, and Grandfather. We will be praying for you all. "
» Rhonda L. Johnson (Curry) on August 10, 2018
My deepest condolences
"Now is Cameron's time to rest...may Jehovah God the God of all comfort...comfort his family and friends in this time of need...2 Corinthians 1:3,4"
» KMB on August 16, 2018
Sign the Guestbook
---