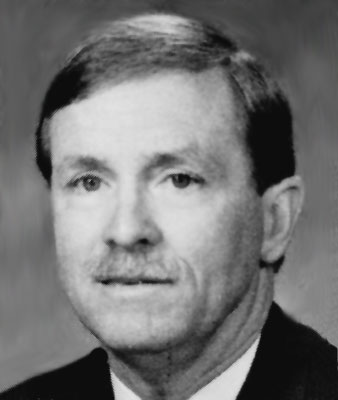 WILLIAM M. 'BING' WOLF
WINTER HAVEN, FLA. – William M. "Bing" Wolf, 77, passed away on Friday, April 13, at Good Shepherd Hospice House near his home of the past nineteen years in Winter Haven. He battled a rare, aggressive, and incurable blood cancer. "Bill" trusted in his faith.
Bill was born March 12, 1941, in Youngstown, to William F. Wolf and Louise Fiess Wolf.
He was a 1959 graduate of Liberty High School and was an outstanding athlete in basketball and also a state participant in track. Bill played basketball at Youngstown State University for the legendary coach Dom Rosselli, earned four letters, and received a Bachelor of Education in 1963. He continued his education with a Masters of Administration from Westminster College in 1967.
Bill was a highly respected teacher and coach for 31 years at Youngstown Hillman Junior High, North High School, and Canfield High School. He took the Canfield Girls basketball program and molded them into a local, regional, and state power during his eighteen years. His record in conference play was 199-17. In 1991 and again in 1992 he led the team to the state "Final Four." In addition, he was an outstanding softball coach.
His honors included Mahoning Valley Coach of the year ten times, 1991 Ohio Coach of the Year, induction into the inaugural Liberty High School Hall of Fame, Canfield High School Hall of Fame, and Curbstone Coaches Hall of Fame.
After retirement, he was an Assistant Women's Basketball Coach at YSU for two years for another legendary coach, Ed DiGregorio.
Bill leaves two daughters, Jennifer Melosky and Lisa Wolf, both of Florida; six grandchildren; one great-grandchild; brothers Brian (Kathy) Wolf of Liberty Township and Reverend Blake (Deb) Wolf of Lees Summit, Mo.; sister Beth (Andy) Jackson of Austintown; and many nieces and nephews.
Bill was preceded in death by his parents; his wife of 53 years, Joyce Vehre Wolf; brother Brent Wolf; and a granddaughter, Emily Melosky.
The family has requested that monetary tributes be donated in memory of Bill Wolf to the Youngstown State University Foundation: 655 Wick Ave. Youngstown, OH 44502.
Guestbook Entries
Sympathy
"Our most sincere sympathy to all of you. Prayers for your peace and comfort. "
» Mike & Pat (Eckelberger) Bundy on April 22, 2018
Thanks for your Inspiration
"I want to express my deepest Condolences to Coach Wolf's Family. I also would like to finally thank Coach for his invaluable time, & expertise helping me to develop my speed & coordination skills, while at North High School, in Youngstown, Ohio. God Bless, and Keep You, Coach Wolf."
» Mike North-NHS 68' on April 22, 2018
Deepest sympathy
"Dear Brian and family, please accept my deepest sympathy in the loss of your brother. May our loving Lord comfort you and give you peace during this difficult time. "
» Janice Polder Ferry on April 22, 2018
Cousin
"My deepest sympathy on your loss."
» Philip Fiess on April 23, 2018
things I wanted to say
"Coach Wolf, I do not remember when we last chatted. My job often took me to Florida and on several occasions I planned to drop by to see you. Alas, appointments...family...and racing back to the airport to fly home stymied those plans. What I would have said is thanks for the memories, fun and the joy of playing basketball under you at Canfield High School. I had a great experience at CHS, in part, because of you Bob Duffett"
» bob duffett on April 23, 2018
A childhood friend.
" Brian, Blake and Beth.you have my deepest regrets for the loss of your brother. "
» Ronald Bortmas on April 23, 2018
Our deepest sympathy
"Dear Brian and family, Our sympathies to you and your family. We have wonderful memories of Bill, especially with our children, athletes and students at Canfield Local Schools. He was always giving and inspirational to everyone. Loren and Mag Mitchell"
» Loren and Mag Mitchell on April 23, 2018
Raised as cousins at Immanuel Lutheran Church
"Brian, Beth and Bings family; My family's thoughts and prayers are with you in this sad time. May the Lord be next to you to help you in the days to come. Bing, please say Hi to Aunt Louise for us.... Albert Cattoi Family"
» Stella Cattoi on April 24, 2018
Sign the Guestbook
---