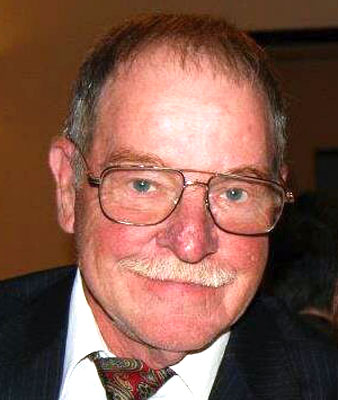 WILLIAM E. GOODYEAR
HUBBARD – Funeral services will be held on Wednesday, April 18, 2018, at 10 a.m. at St. Patrick Roman Catholic Church with the Rev. Michael Swierz officiating for William E. Goodyear, 78, who died Sunday, April 15, 2018, after a brief illness.
He was born July 31, 1939, in Youngstown, a son of Joseph and Helen Vaughn Goodyear.
He grew up in Coitsville, and had lived in Hubbard since 1973. Mr. Goodyear was a 1958 graduate of Youngstown North High School, and a U.S. Army veteran. He was a welder by trade at Saramar Aluminum in Warren before working at Delphi Packard Electric until his retirement in 2003.
"Bill" was known for his terrific vegetable gardens, a good road trip, and his ability to give pragmatic, honest life advice. He enjoyed taking trips to Pymatuning, Lake Erie and visiting his good friends on their farm in New Wilmington, Pa. His complete pride and joy were his grandchildren, and the feeling was mutual.
His wife, the former Mary Ann Fisher, whom he married Aug. 17, 1963, preceded him in death on Sept. 2, 2007.
He leaves one son, William (Gina) Goodyear of Murrells Inlet, S.C.; three daughters, Jill (David) Mogg of Hubbard, Suzanne (Al Pondillo) Goodyear of Austintown and Jodi (Kevin) Wallace of Seven Hills; two sisters, Joan Shainoff of Cleveland Heights and Jeri (Carl) Stere of Hubbard; a brother-in-law, Don Wright of Canfield; and a sister-in-law, Helen Goodyear of Hubbard. Bill also leaves 13 grandchildren, Emily, Conor and Hannah Mogg, Steven, Kaitlin and Elizabeth Sisk, Robert, Alyssa and Lynsey Wallace and Billy, Anthony, Dominick and Colton Goodyear; along with several nieces and nephews and his long time neighbors.
In addition to his wife, Mary Ann of 44 years, he was preceded in death by his parents; an infant son, Joseph; a brother, Robert Goodyear; and two sisters, Helen Wright and Norma Carroll.
Family and friends may call on Tuesday, April 17, 2018, from 4 to 8 p.m. at the Kelley-Robb-Cummins Funeral Home. Closing prayers will be held on Wednesday, April 18, 2018, at 9:30 a.m. at the Kelley-Robb-Cummins Funeral Home. Interment will be at St. John Cemetery in Lowellville.
Please visit online at www.krcummins.com to view the obituary and to send condolences to the family.
Guestbook Entries
Words of Sympathy
"I was so saddened to read about the passing of Bill. I can still remember the fun times we all had when we got together for family gatherings, holidays and weddings. I will surely keep all of you in my thoughts and prayers as you mourn your loss. Cherish all the happy memories you have made with him. With deepest sympathy, Teresa and Jack"
» Teresa Getz Heintz on April 17, 2018
Sign the Guestbook
---