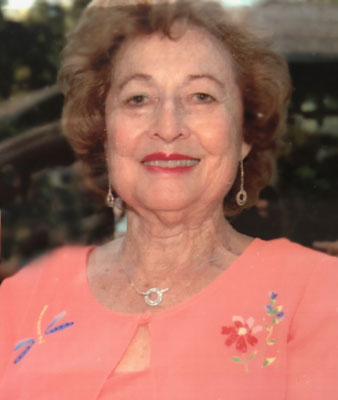 TOMAR GREEN
YOUNGSTOWN – Tomar Green, 99, born Tamara Green, passed away on Monday at Heritage Manor in Youngstown, where in recent months, she was receiving Hospice care.
Tomar was born Nov. 24, 1918, in Philadelphia.
Tomar's father was Mark Schweid, a prominent member of the Yiddish Theater Community in New York City, and an interpreter for The Nuremberg Trials. Tomar's mother, Dora Schweid, was a dedicated Hebrew scholar and teacher. Tomar was preceded in death by her brother, Emmanuel "Manny".
Growing up in New York City, Tomar was raised in a home that valued education, the arts and was full of Yiddishkeit tradition. Her father (Polish descent) and her mother (Russian descent) spoke Russian, Yiddish and English in the home and community. Tomar graduated from Hunter College in New York City.
Tomar was married to Eugene Green, a prominent labor attorney from Struthers, who dedicated his career to supporting a number of unions throughout the state of Ohio. Eugene was a founding partner at Green Schiavone, Murphy Haines Law Offices in Youngstown.
Tomar is survived by her three children, Susan Malkoff (Max) of Youngstown, Daniel "Danny" Green of Columbus, and David Green (Carolyn) of Lafayette, Calif.
Tomar, a woman ahead of her time, was admired by many for her remarkable beauty and youthful spirit. Following Eugene's death in 1983, she donated a lecture hall in her husband's name to The Ohio State University. She dedicated the second half of her life, deeply committed to her independence, connection to family, friends and the Jewish Community.
She traveled the world, furthered her education at the Youngstown State University and supported causes she loved. She honorably served as a board member of The Child Guidance Center, volunteered to help teach illiterate children to read, read for the Society for the Blind and supported numerous organizations committed to helping the underserved. In her more senior years, Tomar enjoyed her relationship with the Butler Art Institute where she was a docent and active member of their community.
A beloved grandparent and great-grandparent who adored her grandchildren, Tomar is survived by Keith (Susan) Rubenstein of Chicago (Lucy, Sydney, Zachary, Ella), Kim Rubenstein (Tom Lundin) of Chicago, Chloe Green (Alek Diachenko) of San Diego, Alex Green (Billy Duckworth) of San Diego, Elizabeth Green of San Francisco, Amy Malkoff of Boston, Pamela Grossman Hayes (Gregory), and David Malkoff (Nathalie) of Atlanta, Ga.
Services will be held at 2 p.m. on Wednesday, April 18, in the Shriver-Allison-Courtley-Weller-King Funeral Home. Visitation will be one hour prior to services from 1 to 2 p.m.
Donations may be made to Heritage Manor, The American Heart Association or the Charity of your choice.
Arrangements have been entrusted to the Shriver-Allison-Courtley-Weller-King Funeral Home.
Guestbook Entries
Condolences
"Condolences to the Malkoff and Green family in the passing of Tomar, before she became sick I use to drive her to many Doctor appointments, she was a lovely lady, loved her Mah Jong, and will be missed by many friends, may she Rest In Peace."
» Daniel Malkin on April 17, 2018
With sympathy
"May she rest in peace. Tomar was one of a kind and I feel privileged to have known her."
» Glorianne Leck on April 17, 2018
Sincere condolences
"Sue & Max & families, Keeping all of you in thought and Prayers for strength & peace at this difficult time. May all memories of her help carry you through & she'll always be in your heart. Sincere Sympathy God Bless Love, Larry & Linda Herman & families"
» Linda & Larry Herman & families on April 17, 2018
Sign the Guestbook
---