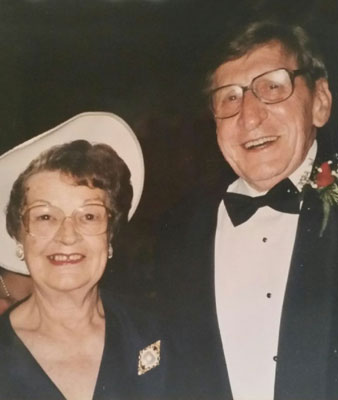 RUTH J. RABOVSKY
"Together Again"
NEW MIDDLETOWN - Ruth J. Rabovsky, 93, passed away Sunday, April 15, 2018, at Masternick Memorial Health Care Center, where she most recently resided.
Ruth was born May 18, 1924, in New Middletown. She was a daughter of Clara (Kurtz) Sipe and Lawrence B. Sipe Sr.
She served during World War II, as a munitions inspector in Pittsburgh, but more recently was a mother and homemaker. She had a zest for life, enjoyed dancing, polka music, all sports and spending time with family. She was a member of SNPJ and was an avid fan of the Joe Fedorchak Polka Band.
She is survived by a sister, Carol Reese of Sarasota, Fla.; a granddaughter, Tamara Yereb; daughter-in-law, Susan Yereb Shavelin of South Carolina; stepdaughter, Jeanne (Bruce) Geilhard of Vienna; grandchildren, Jenny Geilhard, Ryan (Laura) Geilhard; and two great-grandchildren, Logan and Sara.
Besides her parents, she was preceded in death by her beloved husband, Paul Rabovsky, whom she married April 15, 1961, and who passed away Oct. 9, 2004; her brothers, Kenneth Sipe, John Sipe, Donald (Skippy) Sipe, and Lawrence Sipe Jr.; sisters, Margaret Menn and Doris Blower; son Richard Yereb; and an infant daughter, Bonnie Yereb.
A funeral service will be held at the Clemente Funeral Home, 10170 Main St. in New Middletown at 11 a.m. on Wednesday, April 18, friends may pay their respects one hour prior to the services 10 to 11 am.
In lieu of flowers, the family has requested donations be made to Hospice of the Valley, 5190 Market St., Boardman, OH 44512.
The family would like to express sincere thanks to the wonderful staff of Masternick Memorial and nurses and volunteers of Hospice of the Valley.
Visit www.clementefuneralhomes.com to view this obituary and send condolences
Guestbook Entries
Sign the Guestbook
---