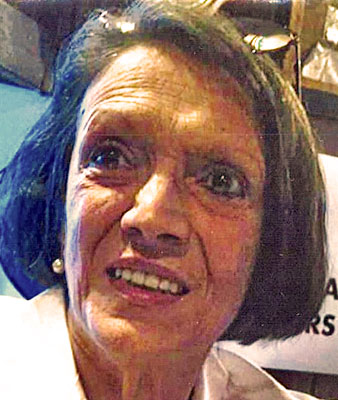 MARGARET J. GAETANO
YOUNGSTOWN – Prayers will be held at 9 a.m. on Thursday, April 19, at the Rossi Brothers & Lellio Funeral Home in Boardman, followed by a 10 a.m. funeral service at the Victory Christian Center, 3899 McCartney Road, in Coitsville, for Margaret J. Gaetano, 71, who passed away on Friday, April 13, 2018, surrounded by her loving family.
She was born Feb. 2, 1947, in Youngstown, the daughter of Joseph and Ida (Donnadio) Falletti.
Margaret was a 1965 graduate of East High School and was a self-employed hairdresser for over 50 years. She was a dedicated homemaker to her family. She loved being around people, especially her children, grandchildren, and friends. Besides her passion for hairstyling, she also enjoyed singing.
She was the former wife of Henry "Socco" Gaetano Jr ., owner of Gaetano's Airport Tavern.
Margaret will always be remembered lovingly by her two children, Henry "Socko" Gaetano III, of Canfield, and Maria Gaetano-Patterson of Youngstown; two grandchildren, Zacary and Jaycee Patterson; two sisters, Rosetta Clevenstine of Palm Coast, Fla., and Mary Hurd of Cortland; brother Rocky Falletti of Youngstown; and Josh Ditman, Rebecca Ditman, Megan Blackburn, and Laura Gaul, whom she loved as her own grandchildren.
Besides her parents, she was preceded in death by son-in-law Gregory Patterson.
Friends may call from 5 to 8 p.m. on Wednesday, April 18, at the Rossi Brothers & Lellio Funeral Home, 4442 South Ave. in Boardman.
In lieu of flowers, monetary contributions may be made to the family.
Family and friends may visit the Book of Memories at www.rossifunerals.com to view this tribute and send condolences to Margaret's family.
Guestbook Entries
Sherri Wilson
"I am so sorry about mom.she was a sweet li ady.i am going to miss her lough.all of you are in my prays abd though.love you guys."
» Sherri (trella) wilson on April 17, 2018
Condolence
"Socko -- so sorry to hear about your Mom. You're in our thoughts and prayers, and we hope you're doing OK. We'll see you soon. Don & Lisa "
» Don & Lisa Foley on April 17, 2018
thoughts and prayers
"I'm so sorry for your loss Maria. you are in my thoughts and prayers ... she is in a better place now.. she is flying high watching down you and the kids. stay strong Maria!!! I'll talk to you soon. ❤"
» Kayla Chambers on April 17, 2018
Sympathy
"My sympathy for the death of your mom. I know how hard it is and will be, but you will find comfort in the fond memories that you have of her."
» Joy M Gaetano on April 18, 2018
Sign the Guestbook
---