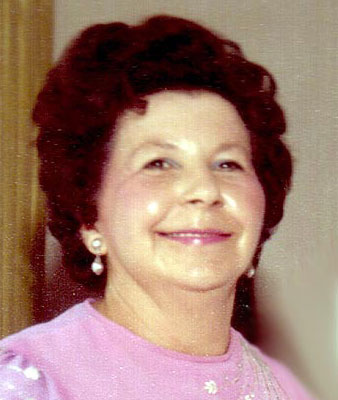 JULIA PAVIS
SUN CITY CENTER, FLA. - Julia Pavis, 85, formerly of Liberty Township, passed away Friday morning, April 13, 2018, in Florida.
Julia, who was known to many as "Judy," was born Aug. 1, 1932, in Youngstown, a daughter of the late Joseph and Ann Kramer, and lived in this area for most of her life.
Judy was a homemaker who also worked for 18 years as a clerk and cashier for various local supermarkets.
Judy was a very devoted wife and mother who always put her family above herself, and she will be deeply missed by her loving family.
Mrs. Pavis was a member of St. Edward Parish in Youngstown.
Her husband George J. Pavis, whom she married in 1954, passed away Jan. 8, 2005.
Judy leaves to cherish her memory, a daughter, Linda (Brad) Booth of Odessa, Fla.; a sister, Nancy Sernulka of Cortland; and many nieces and nephews.
Besides her husband, two brothers, Frank and Joseph Kramer, and six sisters, Helen Hritz, Ann Bistarkey, Lucy Uhler, Betty Sylvester, Mary Evans, and Elsie Antonoff, are deceased.
Family and friends may call from 12:30 to 1:30 p.m., Wednesday, April 18, at Kinnick Funeral Home, 477 North Meridian Road, Youngstown, where funeral services will take place at 1:30 p.m.
Interment will follow at Resurrection Cemetery in Austintown, where Mrs. Pavis will be laid to rest next to her husband.
Please visit kinnickfuneralhome.com to view this and share this obituary, and to send condolences online to Judy's family.
Guestbook Entries
Aunt Judy
"Will miss Aunt Judy, the "character" of the family...always smiling and joking...enjoy your reunion with your brothers and sisters Aunt Judy! Love you, always!"
» Susan Cook on April 17, 2018
Aunt Judy
"Aunt (Uncle) Judy, always having fun. When I was little, I called her Uncle Judy! First wedding I was in, dressed just like her, as her flower girl. Spent a summer week at her house playing with Linda, who later was, in my wedding. When the sisters got together to cook for cousins wedding showers, her dish was, the best potato salad ever... fond everlasting memories. Much love, from Steve & I. "
» Sue Patella & Steve Uhlar on April 17, 2018
Sign the Guestbook
---